It might barely be Springtime, but Diamond Select Toys is already looking forward to the Summer and Autumnal seasons with some awesome stuff based on the Ninja Turtles, Marvel and DC properties and more.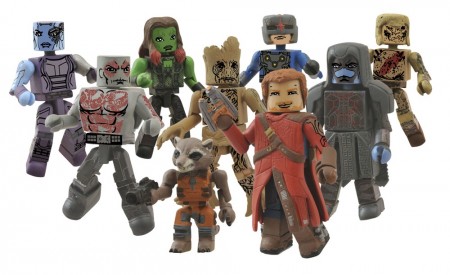 Fresh from the newest issue of mega-comics catalog Previews (which you can find in comic shops right now), comes DST's newest lineup of cool stuff to add onto your collection. There's a pretty wide selection of goodies to be had on this list, and there's actually plenty that we saw at Toy Fair that's still laying in wait for official announcements, so get out your calendars and start figuring where you'll be spending your cash.
For the record, I think that Batman '66 silicon tray, the Guardians of the Galaxy Minimates, and the Van Helsing addition to the classic monsters series are can't miss items. Maybe that Van Helsing above all- I mean, when's the last time you saw a Van Helsing figure?
Here's your complete listing of what's officially on the way for the second and third quarters of 2014:
Marvel Minimates Series 57 Guardians of the Galaxy Movie Asst. – A Diamond Select Toys Release! One of the most eagerly anticipated Marvel movies of all time is nearly upon is, and DST is capturing the characters of the film as 2-inch Minimates mini-figures! Featuring nine different characters from Guardians of the Galaxy, this assortment includes four different two-packs: Star-Lord with Ronan, Drax with Groot (and a Rocket Raccoon micro-figure), Gamora with Nova Corps Centurion, and Nebula with Sakaar Soldier. The Gamora and Nebula sets will only be available in comic shops and specialty stores, so don't miss out! Designed and sculpted by Art Asylum! (Item #APR141985, SRP: $9.99/2-pack)
Amazing Spider-Man 2 Movie Spider-Man Resin Statue – A Diamond Select Toys Release! New movie, new suit, new statue! Spider-Man and his new movie costume get the full-figure treatment from DST, with this dynamic statue of the Web-slinger atop a New York City rooftop. Despicting SPider-Man in a dynamic battle pose, this statue measures approximately 7 inches tall with its base, and is the ultimate ASM2 collectible! Sculpted by Gentle Giant! (Item #APR141984, SRP: $125.00)
TMNT Teenage Mutant Ninja Turtles Vinyl Bust Banks – A Diamond Select Toys Release! Save your money for a rainy day — or your next pizza craving – with this new line of TMNT banks from DST! These bust banks of the four NInja Turtles are based on their most recent cartoon appearances, and each wields his trademark weapons. WIth a coin slot in the back and an access door on the bottom, each bank stands approximately 8 inches tall. Designed and sculpted by Art Asylum! Donatello Bank (Item #APR141972, SRP: $22.99) Leonardo Bank (Item #APR141973, SRP: $22.99) Michelangelo Bank (Item #APR141974, SRP: $22.99) Raphael Bank (Item #APR141975, SRP: $22.99)
Jay & Silent Bob 20th Anniversary Select Action Figures – A Diamond Select Toys Release! It's been 20 years since we met Jay & Silent Bob in Clerks, and DST is celebrating the less-than-dynamic duo's anniversary with their most realistic action figures ever! Based on their appearances in Jay & Silent Bob Strikes Back, these 7-inch scale figures include multiple interchangeable parts, multiple points of articulation, and connecting display bases depicting the interior and exterior of RST Video. Packaged in Select-style display packaging, with spine artwork. Sculpted by Patrick Piggott! Jay Figure (Item #APR141976, SRP: $24.99) Silent Bob Figure (Item #APR141977, SRP: $24.99)
Kill Bill 10th Anniversary Minimates Crazy 88 Box Set – A Diamond Select Toys Release! This line of Minimates is about to get Crazy! Our first set of Minimates based on Quentin Tarantino's Kill Bill started the battle at the House of Blue Leaves, and now we're gonna finish it! This all-new box set includes four different Crazy 88 gang members, each with 14 points of articulation, plus interchangeable heads and hairpieces, to create different fighters from the film's epic swordfight. Mix and match multiple sets to re-create the carnage! Packaged on a blister card. Designed and sculpted by Art Asylum! (Item #APR141983, SRP: $19.99)
Batman Classic TV Series Silicone Tray – Bang! Zok! Pow! Add some punch to your punchbowl with this silicone tray inspired by the Batman Classic TV Show! This bright green tray casts up ice, as well as gelatin and chocolate, in the shape of the iconic Batman logo, as well as the show's famous sound effects. Unless you're Mr. Freeze, freezing things has never been so fun! Comes packaged in a full-color box. Designed by Art Asylum! (Item #APR141981, SRP: $15.00)
Godzilla King Ghidorah Vinyl Bust Bank – A Diamond Select Toys Release! Hail to the King! Godzilla has met his match with this vinyl bust bank depicting Ghidorah, the three-headed alien monster, as he appeared in 1991's Godzilla vs. King Ghidorah. Measuring approximately 8 inches, tall, the bank has a coin slot on its back for inserting your loose change, and an access door underneath. Have him battle your Godzilla bust bank for shelf supremacy! Sculpted by Gentle Giant! (Item #Item #APR141987, SRP: $22.99)
Monster Hunter Van Helsing Select Action Figure – A Diamond Select Toys Release! Monsters beware! Diamond Select Toys is unleashing a fearsome foe upon every monster action figure in your collection, and it's none other than famous monster-hunter Van Helsing! Based on an original design, this 7-inch action figure comes armed to the teeth with stakes, axes and a crossbow, making him more than a match for any and all supernatural creatures. Van Helsing includes a deluxe cemetery base, featuring a female vampire rising from the grave, and comes packaged in Select-style display packaging, with spine artwork. Sculpted by Jean St. Jean! (Item #APR141978, SRP: $24.99)
Universal Monsters Select Son of Frankenstein Figure – A Diamond Select Toys Release! The monster returns! Diamond Select Toys revisits Frankenstein's Monster with this all-new figure depicting the monster in his outfit from 1939's Son of Frankenstein. This 7-inch-scale action figure features an all-new sculpt with all-new articulation, and can strike multiple poses on his deluxe display base, featuring equipment from Dr. Frankenstein's lab. The Monster and his base come packaged in Select-style display packaging, with spine artwork. Sculpted by Jean St. Jean! (Item #APR141979, SRP: $24.99)
Universal Monsters Select Creature from the Black Lagoon Figure – A Diamond Select Toys Release! Just when you thought it was safe to go back in the water! Diamond Select Toys revisits the Black Lagoon with this all-new figure depicting the world-famous Creature, first seen in 1954's Creature from the Black Lagoon. This 7-inch-scale action figure features a new sculpt with over 16 points of articulation, and can strike a wide variety of poses on his deluxe display base, which features a skeleton and an undersea rock formation. The Creature and his base come packaged in Select-style display packaging, with spine artwork. Sculpted by Jean St. Jean! (Item #APR141980, SRP: $24.99)
Marvel Select Villain Zombies Magneto Action Figure – A Diamond Select Toys Release! Magneto is back for revenge… and your brains! This all-new action figure of X-Men villain Magneto features decomposing and battle-damaged details, inspired by his zombified appearance in the horror comics of the Marvel Universe. Packaged with a detailed display base, the 7-inch-scale Magneto comes in Select-style display packaging, with spine artwork. Sculpted by Phil Ramirez! (Item #APR141986, SRP: $24.99)