Author Nick Carter brings a tale of cannibalism and horror to the table in his first novel, The Troop.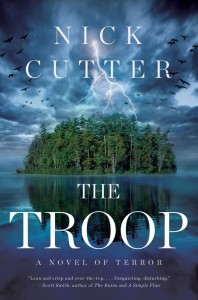 The Troop by Nick Cutter is the first novel from this Canadian author and stands out as one of the best books so far this year. As it says so blatantly on the cover, this is a novel of terror, and although it will probably not scare a grown adult, it does provide some horrific insight into the human psyche.
The novel has interesting case files thrown in between the main story comprising of little bits of outside information sometimes fake articles or evidence acquired by the investigators in the story. These help provide some context to the story outside of the characters involved, and show that the incident had some impact outside of what we know.
The main story surrounds the Eagle Scout Troop in a distant Canadian island. Scoutmaster Tim is joined by 5 young boys in a camping expedition when mysterious stranger arrives by boat, a stranger with an unending desire for food. When Tim fails to provide him with enough food, he eats Tim as well. From there the story follows the boys they attempt to save themselves from his ravenous appetite, while learning as much as they can about him. It's an interest tale filled with twists and conspiracies.
Even though most the story concerns the journey of the boys as they attempt to escape, it is far from a teen book, as they begin to question the morality of the whole thing and begin to delve into some very frightening territory. Each story comprises of a different scene and gives you a deeper sense of what happens in each section of the world.
Final Thoughts
For Cutter's first book, this is an exceptional story that stands out among horror novels of recent memory.
The way he uses language and symbols is great and gets you involved further in the world he has created. The Troop comes off as if written by a much more modern Stephen King, mixing terror and suspense in the perfect way.