Get a closer and more detailed look at the Arkham Knight and the Batman himself in this new round of screens for Warner Bros and Rocksteady's hotly anticipated sequel.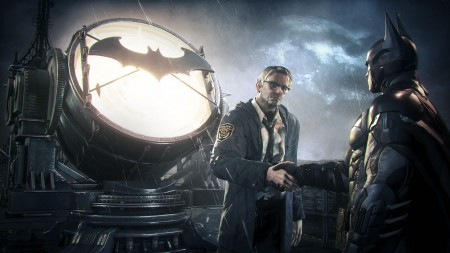 In the explosive finale to the Arkham series, Batman faces the ultimate threat against the city he is sworn to protect. The Scarecrow returns to unite an impressive roster of super villains, including Penguin, Two-Face and Harley Quinn, to destroy The Dark Knight forever. Batman: Arkham Knight introduces Rocksteady's uniquely designed version of the Batmobile, which is drivable for the first time in the franchise. The addition of this legendary vehicle, combined with the acclaimed gameplay of the Batman Arkham series, offers gamers the ultimate and complete Batman experience as they tear through the streets and soar across the skyline of the entirety of Gotham City.
If you are wondering what Rocksteady was doing while Warner Bros Montreal was making series prequel Batman: Arkham Origins, they were basically making Gotham City and quite possibly the best game in an already pretty lofty franchise. As a Batman fan of many years, there's a ton to like about this game and we haven't even played it yet.
Access to the Batmobile anytime you like, a fully explorable Gotham City, a terrific rogues gallery of the Bat's most iconic enemies, a redesigned cast, and the return of Kevin Conroy as the Dark Knight all equate to something that fans (including me) are dying to get their hands on. And this all isn't just wishful thinking and hope that it'll be a worthwhile experience either thanks to the fact that Arkham Knight is a Rocksteady developed game and they made the two highest rated titles in the series (both critically and fan) Arkham Asylum and Arkham City.
Here in this latest dose of screens, we get a good look at the pistol-wielding Arkham Knight (no, it's not Batman), as well as an aged Commissioner Gordon and Batman's new costume. I like the new suit a lot as it looks less bulky and more light and comic-booky then his original armor in the first two games. Maybe the only thing I don't like about the game so far is that Warner Bros says it'll be the final installment of the series.
Now, I'm hoping that that means a change of focus for the games and maybe something that ties into the larger DCU in general, but you never know. Much like with CD Projekt Red's The Witcher, the publisher and developer both could be looking to take this one out on a high note. We'll see I guess.
A next-fen only affair, Batman: Arkham Knight is set to hit the Xbox One, PS4, and PC some time later this year. As always, we'll let you know more as soon as we do.