Square Enix announces a Limited Edition for the forthcoming undead gumshoe game along with a brand new trailer entitled "Buried".
So far, Murdered: Soul Suspect os looking like a pretty interesting time. It kind of reminds me of a way more serious version of The Frighteners (if you remember that one) for some reason too, a fact that actually has me wanting to play Murdered more and more.
If you;re looking forward to the release and doing a little soul searching of your own, then you might be interested to know that Square Enix has a special Limited Edition lined up for those who are in a preordering mood. And surprise, its actually pretty cool:
The Limited Edition will include a copy of the journal used by Ronan and Joy to hunt down the killer and features written and visual clues about the murders terrorising Salem. It will also include free access to an Interactive Digital Strategy Map. With the aid of the map, you will be able to seek out hundreds of collectibles, detect side quests and find all of Salem's haunting landmarks. The map will be accessible via computer or tablet.
Call me a sucker for physical collectibles in my Limited Editions and Collector's Editions, but that's some neat stuff in there. The LE pack is available only via participating retailers, which includes GameStop, and if you want one you might want to hustle with the preordering- Square Enix says that they're only going to be available in a limited number (hence the name) and only till they run dry.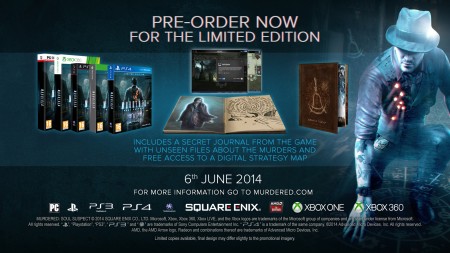 The Limited Edition of Murdered: Soul Suspect will hit retail on June 3rd for the Xbox One/360 and PS4/3 with the vanilla edition available for he PC. The LE will cost you the same as that standard version of the game at $59.99 USD too, so if your in for a little post-life sleuthing anyway you've got nothing to lose and a cool little diary to gain.