Playmates Toys announces a special lineup of super-poseable TMNT figures based not on the upcoming Michael Bay flick, but the classic movie from 1990.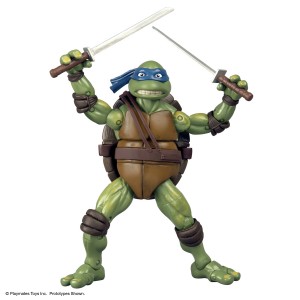 If you're a long time Turtles fan, it really doesn't get too much better than this. The classic Teenage Mutant Ninja Turtles film was one of the coolest things to happen to the TMNT since they blew up in the late '80s. It was a success, not just for the franchise, but for comic books in general and continued on the trend that comics could be big-screen successes. Looking back on it, there were plenty of things that maybe could have been done a little better in the movie, but at the time it was pure magic- especially for kids.
Those kids who loved the movie are all grown up now of course and chances are that, if they collect action figures, their tastes in little plastic characters have probably grown up too. That's where this new series from Playmates Toys comes in. Playmates had a ton and a half of figures on display at this week's Toy Fair in NYC, but maybe the ones that stood out the most were these four based on the Teenage Mutant Ninja Turtles movie from 1990.
With perfect sculpts and some fantastic-looking articulation, the four brothers look ready to add to any collection. Personally I'm pretty excited about these and I haven't bought a Ninja Turtle figure since the original line (also from Playmates) died out back in the 1990's. The chance to pick up not only figures from one of my favorite moves when I was a kid, but also such well-made versions of the characters definitely is something I'm excited about. The only problem is that I want more.
Give me a Shredder, Rocksteady, Bebop and Krang for series 2 (which would match the four character lineup for series 1- just sayin') and I'll be in half-shell-heaven. For now though, expect to see the four Turtles (Leonardo, Raphael, Donatello and Michelangelo) sporting their classic looks on toy store shelves later this year.