A leak of some screenshots for the new Super Smash Bros game has surfaced, and as per usual speculation surrounding it spreads like wildfire.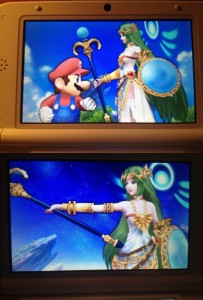 For those of you not familiar with Palutena, she is the Goddess of Skyworld in the Kid Icarus games. Her most recent appearance until now has been in the latest addition to the franchise, Kid Icarus Uprising. Her main role in the games is to guide the angel Pit, helping him overcome monsters from the underworld, such as Medusa and Hades. In Uprising, she was a very appealing and cheerful character; she would often poke fun at Pit, having a bit of banter with him. Many fans naturally have hopes that she is included in the next Super Smash Bros, being more than just a final smash for Pit. In the previous game, Pit's final smash was the ability to call Palutena for help; she would appear in the background and unleash a flurry of archers on all players in arena.
The burning question that remains is whether she will be a playable character in the Super Smash Bros. These screenshots certainly make a good case for those arguing that she will most likely be in. While some may say she could very well just be another assist trophy, one must ask why Nintendo would feel the need to change his final smash. What could be the reason for this alteration? There was nothing inherently wrong with it, and didn't necessarily clash with the more modern version of Pit. Not to mention the fact that we have no evidence of final smashes even being altered in the next game. There's a possibility for sure, but unless it's proven, there's simply no need to outright assume Pit's final smash changed.
Of course, there is also the argument that this is just a clever photoshop. While there is certainly a chance of this, it would have to be one of the best photoshops out there. Not only is there no model from any other video game that perfectly matches this one, but the changes seem too refined to be a fake. It's best not to get your hopes up too much, on the off chance it is a hoax, but it's certainly something to revitalize any hype you may have lost these past few weeks.