Ready to head back into the world of Baldur's Gate? Beamdog and Overhaul Games' redux of the PC role-playing classic is now available on the Apple iPad.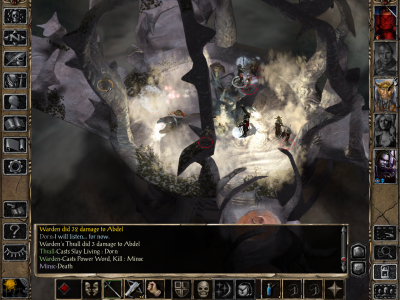 There are few PC RPG's that had the massive following of the Baldur's Gate series. Based on the Dungeons & Dragons medieval fantasy world, the games captivated with their action as much as their stunning attention to detail in recreating what really is one of the best loved properties of all time in D&D. The new revised version of the original game (well, the original game's sequel) from Overhaul Games features a bunch of new stuff as well as the Shadows of Amn expansion pack and a completely HD-ified look.
Throne of Bhaal: Travel to Tethyr in this thrilling conclusion to the Bhaalspawn saga, and delve into the treasure-filled halls of Watcher's Keep!
Fist of the Fallen: Help the Sun Soul Monk Rasaad find peace in his quest for vengeance, and determine the fate of a heretical sect.
Unbound: Join the Blackguard Dorn in carving a swath of destruction across the Realms, as he struggles to appease the increasingly bloody demands of his dark patron.
A Shadow's Life: Recruit the mysterious Thief Hexxat and take up her mission of retrieving long lost artifacts from tombs as far away as Zakhara..
In Defense of the Wild: Protect the innocent and stand with Neera the Wild Mage against a ruthless school of Red Wizards.
The Black Pits II: Gladiators of Thay: Explore the tactical depth of high-level Dungeons & Dragons combat. Turn your captors against each other while you dodge traps and battle for your life against Demi-Liches, Mind Flayers, and the legendary Githyanki.
Gallery of Heroes II: Keiren Yanner: Expand your character collection with these six beautifully painted hero portraits from acclaimed artist Keiren Yanner!
Easy Multiplayer: Baldur's Gate II: Enhanced Edition makes it easy to find, list, and join multiplayer games, even while behind a firewall.
Widescreen and More: Baldur's Gate II: Enhanced Edition features full widescreen support, remastered area artwork from original renders, and a host of other interface and gameplay improvements.
If you're already a fan (and if you like PC RPG's, then you probably are) Baldur's Gate II: Enhanced Edition is kind of a no-brainer. If you haven't played the game in the past, then all you really have to know is that it's far and away one of the best RPG's (in any form) to hit the PC. Now that's it's on iOS too, you really have no excuse for not finally finishing that quest you never got to back in the day. After all, you can take this little epic just about anywhere you like now.
You can grab a copy of Baldur's Gate II Enhanced Edition (which is already available on both the PC and Mac) on the iPad right now by clicking here. It'll cost you $14.99 USD to buy the game itself with in-app purchases available for extra character portraits and more characters if you so desire (none of which are necessary to beat the game).