Looking for a physical controller to jam on with your iOS 7-running iPad? Peripheral-maker SteelSeries has what you're looking for.
"The Stratus Wireless Controller, the first wireless gamepad controller ever to be supported in iOS 7, forever alters the mobile gaming landscape," said Bruce Hawver, SteelSeries CEO. "With Stratus, gamers have easy and direct access to a growing roster of great games on iPad that were intended for an immersive, controller-enabled experience. We're incredibly excited to be the first gaming peripherals company to develop a standalone controller for iOS devices and are thrilled to see an abundance of high quality game titles rolling out from publishers everyday."
With iOS 7 pads already on the market for the iPhone, you had to guess it'd be a very short period of time before the devices started to pop up at retail for the little guy's big bro- and here's the first one, courtesy of SteelSeries. A good, official wireless controller for Apple's device has been a dream of mobile gamers almost since the iPad first made it's debut in 2010. And for the first to hit the market, the Stratus could be a winner right off the bat as SteelSeries makes some really great pieces of hardware (see our recent review of the Siberia headset for more on that).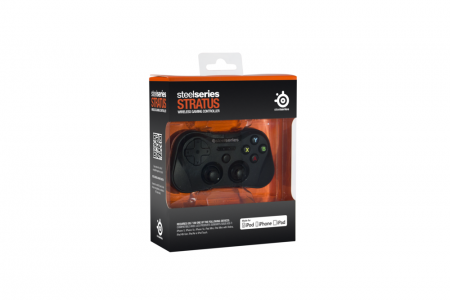 The pad will connect to the iPad via Bluetooth and through the use of iOS 7's native controller support for games that are designed to take advantage of that new adoption. All of the face and shoulder buttons as well as the D-pad are pressure-sensitive and the layout of all, including the dual analog sticks, should be instantly recognizable to anyone who regularly plays console games on any system. The Stratus sounds like it's going to have a good long battery life too with a reported 10 hours on a 2 hour charge via the included USB cable.
Perhaps the only negative here is that right now there aren't a ton of games on the App Store that support iOS 7's new controller options. Not that that's a situation that will probably last all that long. You can more than likely expect the situation to change as fast as developers can update their apps now that controllers are hitting as iOS gaming is already popular without a controller- you can use your imagination as to what'll happen with it.
You can preorder a Stratus right now SteelSeries.com for $99.00 USD. There's no release date as of yet, but we'll certainly be keeping tabs on this one, so we'll let you know as soon as we do.