THQ's MX vs. ATV series of extreme sports games is coming back to consoles and the PC thanks to new publisher Nordic Games.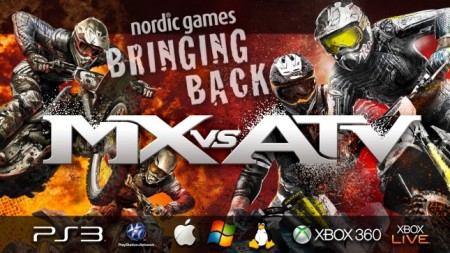 You might remember Nordic grabbed the MX vs. ATV license from THQ as the company was selling off it's IP's as it collapsed earlier this year. Since then, there's been basically no mention of the popular series, till now anyway. The mud and grime covered racer will indeed be making its triumphant return however, and it's coming sooner than you might think.
"We're absolutely thrilled to be working with Nordic Games because they appreciate the team's passion and dedication to bring the feel of real motocross racing to MX vs. ATV fans. Not just the adrenaline rush, but the whole experience from top to bottom.", says Ken George, Executive Producer of MX vs. ATV Supercross. "A lot of the original team members have been aching to continue their passion: building the most authentic off-road racing games possible. The hiatus is over, and the team is back to work on MX vs. ATV with great new things to come."

"We're all devoted fans of the MX vs. ATV games," adds Reinhard Pollice, Business & Product Development Director at Nordic Games, "so being able to play a part in continuing this brilliant series is a dream come true. We're absolutely committed to ensuring Ken and his team receive the best support and the freedom to create the games they love making – and we're confident that the series will continue to grow from strength to strength. Supercross is just the start of our MX vs. ATV plans. 2014 and beyond will prove to be a hell of a ride."
Yep- 2014. MX vs. ATV fans will be able to get down and dirty once again next year with a new game that's on the way for the first half of 2014. The  first game under Nordic Games will be titled MX vs. ATV Supercross and will have the same spirit of MX vs. ATV's past. It's currently being worked on by a group of former developers of past games in the series that Nordic has assembled actually, so you know that if you liked these titles before, you're probably going to dig this new installment.
I've always liked the MX vs. ATV games and I'm not even really a racing fan of any kind… outside of Mario Kart anyway. There's an arcade-like feel to them with the fast action and big stunts and the like that makes 'em fun for I think pretty much anyone- even the racing-skills challenged.
As for MX vs. ATV Supercross, the game will be on the way to the Xbox 360, PS3, PC and Mac. And while there's no firm release date or details as of yet, Nordic promises more info is on the way soon. We'll keep you posted.