Holiday shopping can be as stressful as anything, so why not take a few minutes to play some games while your braving the shopping mall?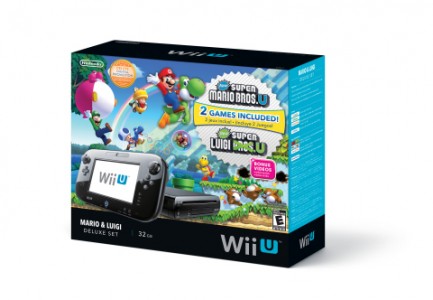 Seriously, can we all be honest for a second and admit that none of us really likes shopping (for anyone) during the Holidays? What's that? No? Okay, maybe it's just me then… anyway, if you are out there on the retail battlefields this Holiday Season, then you might enjoy knowing that Nintendo will be there right alongside you.
The company is bringing its Wii U and 3DS consoles into a total of 23 malls across the US, including Queens Center right here in metro NY (one of the highest volume malls in the country). Basically, these game stations will be there so you can take five, relax for a few and play some of the titles that Nintendo will have out this season. Try before you buy is always a nice deal, and a little R&R never hurts either.
There'll be some of the biggest multiplatform and exclusive games present for the promotion, which is brought to fans by Nintendo as well as Norwegian Cruise Lines and the PB Teen (Pottery Barn) store chain, where Nintendo will also have Wii U's set up for play.
The expected lineup for Wii U includes Super Mario 3D World, The Legend of Zelda: The Wind Waker HD, Wii Fit U, Wii Party U, Wii Sports Club, The Wonderful 101, Pikmin 3, Mario & Sonic at the Sochi 2014 Olympic Winter Games, Sonic Lost World from SEGA, Disney Infinity from Disney Interactive, Batman: Arkham Origins from Warner Bros. Interactive Entertainment and Tom Clancy's Splinter Cell Blacklist, Assassin's Creed IV Black Flag, Just Dance 2014 and Rayman Legends from Ubisoft.

For Nintendo 3DS, Nintendo is scheduled to show Mario & Luigi: Dream Team, Luigi's Mansion: Dark Moon, Super Mario 3D Land, Donkey Kong Country Returns 3D, Mario & Donkey Kong: Minis on the Move, The Legend of Zelda: A Link Between Worlds, The Legend of Zelda: Oracle of Ages, Animal Crossing: New Leaf, Mario Party: Island Tour, Mario Kart 7, Pokémon X, Pokémon Y, Scribblenauts Unmasked: A DC Comics Adventure from Warner Bros. Interactive Entertainment, Skylanders SWAP Force from Activision and Sonic Lost World from SEGA.
As for where you can get your hands on the games (and backsides on the seats), here's your full listing of where the pop-up Nintendo shops will be appearing from November 25th through December 22nd:
Castleton Square Mall in Indianapolis
Chandler Fashion Center in Chandler, Ariz.
Concord Mills in Concord, N.C.
Dolphin Mall in Miami
King of Prussia Mall in King of Prussia, Pa.
Lynnhaven Mall in Virginia Beach, Va.
Mall of America in Bloomington, Minn.
Memorial City Mall in Houston
Natick Mall in Natick, Mass.
Northbrook Court in Northbrook, Ill.
Queens Center in Elmhurst, N.Y.
Sugarloaf Mills in Lawrenceville, Ga.
The Fashion Centre at Pentagon City in Arlington, Va.
The Florida Mall in Orlando
The Shops at Willow Bend in Plano, Texas
Washington Square in Portland, Ore.
Westfield Annapolis in Annapolis, Md.
Westfield Culver City in Culver City, Calif.
Westfield Southcenter in Seattle
Westfield Santa Anita in Arcadia, Calif.
Westfield Valley Fair in Santa Clara, Calif.
Woodbridge Center in Woodbridge, N.J.
Woodfield Mall in Schaumburg, Ill.
Happy shopping.