The recently released PC real-time strategy title is 33% off for a limited time. Have the game already? Then there's a little something you're going to get just for being a fan.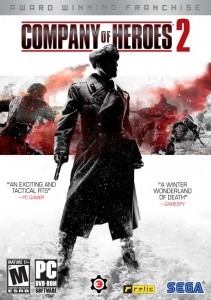 Sega and Relic Entertainment's WWII followup to the orignal smash hit is being offered at the oddly numbered discount for a limited time on Steam. Available today through the 22nd of the month (this Sunday), CoH2 is available in both standard and digital deluxe Collector's Edition flavors.
Both versions are the same discounted price too – 33% off. But wait, there's more because the Case Blue Theater of War mini-pack is also on sale. The add-on will cost you 10% less than usual right now with a sale price that runs right along with the discount on the main game- till Sunday.
Oh and, if you already own the core game (in either standard or Collector's)? You get the mini-pack for free. Yep, now that's a pretty sweet deal that'll get you an expansion to one of the best RTS titles of the year for nothing.