On sale right now from the toy and collectable maker (among other things) is a Minimate of the classic Marvel Comics big-bad Onslaught, and he's brought a bunch of brand new Marvel pals along with him.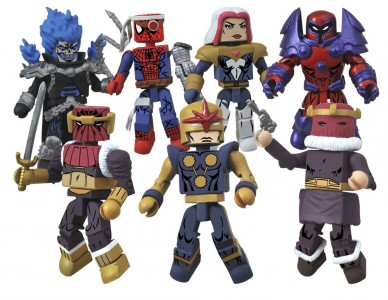 If you remember the contest that DST held a while back, then you might remember fans (like you) got to pick a selection of Marvel characters to make up the upcoming 50th set of Minimates based on the publisher's characters. This is that set- and it looks fantastic. Not only do we get fan-favorites like Songbird, a Nova-corpsman, both Baron Zemos and blue-flam Ghosty, but we also get (for the first time ever) Minimates of the 'cyborg' Spider-Man and Onslaught – straight from the '90s Spidey and X-Men/Marvel U epics that they starred in.
With iconic versions of characters (pay attention Marvel and DC), over-the-top story lines and breakout artists, the 1990's were easily one of my personal favorite era's of comics. The fact that we actually get Onslaught is cool enough, but Cyborg Spidey? Yes, please. Now I'm more than a little biased towards these characters, but even if you're not, these are some cool mini-figures and there's more than likely somebody in this lineup that you want to add to your shelf.
If, by some quirk of fate though, you don't like Minimates (really?), there's still some awesome stuff out there this week from DST. Here's your rundown of what's in stores today:
Marvel Minimates Series 50 Asst. – Fan Choice – It's been ten years, and Marvel Minimates have reached their 50th consecutive series! To celebrate, DST and Marvel.com let fans vote on which characters they wanted to see, and we made the most popular ones! The winning Minimates are: Cyborg Spider-Man & Songbird, Ghost Rider & Onslaught, Baron Zemo II & Nova Corps Centurion, and a variant set that has Baron Zemo I & Nova Corps Centurion! These are the figures over 30,000 fans asked for! Each Minimate stands 2 inches tall with 14 points of articulation and a variety of removable and interchangeable parts and accessories. Designed and Sculpted by Art Asylum! (SRP: $9.99 per pack of two, case item no. FEB131531)
Femme Fatales Invincible Atom Eve PVC Statue – A Diamond Select Release! Sculpted by Jean St. Jean! Springing from the pages of the comic book Invincible, it's Atom Eve! Samantha Wilkins, the matter-manipulating heroine – and Invincible's love interest – joins her fellow comic-book beauties in the Femme Fatales PVC statue line. This Jean St. Jean-crafted statue stands 9 inches tall and comes packaged in a window box. (SRP: $45.00, item no. JAN131631)
Domo Vinyl Bank – Domo is hungry… hungry for your money! The toothy brown monster that's taken the world by storm, Domo is now the latest vinyl bank from DST! Measuring 8 inches tall, the international superstar as a slot on his back for inserting loose change, and an opening in his feet for taking it out. He will keep your savings safe! (SRP: $22.99, item no. MAR131912)
Marvel Spider-Man Silicone Tray – The coolest super-hero now makes the coolest drinks and snacks! With the new Spider-Man silicone tray from DST, you can make ice, chocolate, gelatin and more, all bearing an uncanny resemblance to your friendly neighborhood Spider-Man. J. Jonah Jameson may not want them in his refrigerator, but we sure do! Fighting crime has never been this delicious and refreshing! (SRP: $14.99, item no. JUN131798)