Diamod Select Toys' has a nice selection of stuff up for pre-order next month including an all-new collection of Captain America Minimates, and the Klingon Bird of Prey featured in one of the most loved Star Trek movies of all time.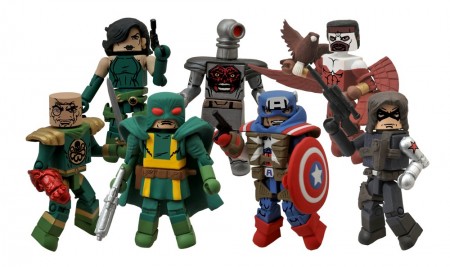 I'm really struck by that Captain America-themed Minimate set. Robot Red Skull, Winter Soldier, Baron Von Struker and that awesome Cap make up for a pretty awesome set. And then you have that Bird of Prey.
There's few Star Trek movies that are better loved than The Voyage Home. The time-travel film followed the Enterprise crew as they went back in time to snag an extinct species of whale to save the future Earth from a crazy AI called V'Ger… see, when you put it like that it makes no sense, but it was a pretty awesome Trek film and… uh, well- that Bird of Prey is pretty awesome no?
MARVEL

Marvel Minimates Series 54 Captain America Asst.

The new Captain America movie is on the way, but we couldn't wait to pay tribute to the First Avenger with his own dedicated assortment of Minimates! Series 54 includes four different two-packs, including Fighting Chance Captain America and Robot Red Skull, The Winter Soldier and The Falcon, Baron Strucker and a Hydra Elite, and a short-packed variant set with a Hydra Elite and Madame Hydra! Each Minimate stands 2 inches tall and includes a variety of interchangeable parts and accessories. Designed and Sculpted by Art Asylum!

SRP $9.99/two-pack

Marvel Thor's Hammer Silicone Tray

Feel like a frost giant with the latest Marvel-themed silicone rubber tray from DST! You can fill the Mjolnir-shaped openings with a variety of substances to make little hammers made out of ice, gelatin, or even chocolate! Turn any party into an Asgardian feast with the perfect gift for any Thor fan!

SRP: $15.00

Marvel Deadpool Metal Bottle Opener

Need to wash down your tacos with a tasty beverage? Then why not open that bottle with the most bad-ass bottle opener around? The Merc with a Mouth is now a solid metal opener, measuring just under 4 inches tall with a polished chrome finish. Magnets on the back keep him hanging around on your refrigerator, taco truck or unmarked van. Comes packaged in a collector case with full-color slipcover.

SRP: $18.00

Marvel Select Classic Thor Action Figure

From the halls of Asgard and the pages of some of the greatest comic books ever written steps the mighty Thor! The hammer-wielding Avenger has returned to the Marvel Select line in his classic incarnation, as a fully articulated 7-inch action figure with 16 points of articulation! This Thor figure includes his hammer Mjolnir as well as an asteroid display base, all in the stylish Select packaging. Sculpted by Gabriel Marquez!

SRP: $24.99

STAR TREK

Star Trek TOS The Cage Enterprise Minimates Vehicle

The voyage continues! From DST and Art Asylum, it's a new version of the Minimates-style U.S.S. Enterprise, this time based on the legendary pilot episode, "The Cage"! With new paint and sculptural details and an exclusive figure of Captain Pike, the ship measures 10 inches long and features an opening cockpit and a hidden Jeffries tube in the engineering section. Includes adjustable display stand! Designed and Sculpted by Art Asylum!

SRP: $29.99

Star Trek Klingon Bird of Prey Bounty Ship

From the year 1986, comes the newest electronic starship from DST! This Klingon Bird of Prey was captured by the crew of the destroyed Enterprise, renamed "Bounty," and used to go back in time to find humpback whales in "Star Trek IV: THe Voyage Home." Now it's back in the future to join your collection! Measuring 19 inches wide by 12 inches long, this new edition of the Bird of Prey includes exclusive sounds, dialogue and a set of landing gear with "Bounty" written on it! Comes with a display stand! Designed and Sculpted by Art Asylum!

SRP: $70.00

VIEW ASKEW

Jay and Silent Bob Strike Back Minimates Two-Pack

Snootchie bootchies! Jay and Silent Bob have been in movies, comic books and cartoons, but you've never seen them like this! This new two-pack of full-color Minimates mini-figures depicts the dynamic duo as they appear in Kevin Smith's feature film "Jay and Silent Bob Strike Back." Each Minimate stands 2 inches tall and includes a variety of interchangeable parts and accessories. Designed and Sculpted by Art Asylum!

SRP: $9.99

LOST IN SPACE

Lost in Space Minimates Robot and Dr. Smith Two-Pack

From the furthest reaches of space come the coolest Minimates of all! Based on the classic sci-fi TV show Lost in Space, these two-inch mini-figures of the famous Robot B-9 and fan-favorite stowaway Dr. Zachary Smith feature a variety of interchangeable parts and accessories, including a laser pistol and three interchangeable Dr. Smith heads! Designed and Sculpted by Art Asylum!

SRP: $9.99

DAWN

Dawn Comic 3-D Sculpted Holiday Ornament

Are you regularly entranced by the breathtaking artwork of Joseph Michael Linsner? Then why not hang it where you can see it every day? This three-dimensional 7″ sculpted ornament depicts Linsner's heroine, the red-headed warrior goddess Dawn, with an all-new paint scheme, and includes a display base so it can be hung anywhere you want to get a pick-me-up. Not just for holidays, share the love year-round! Sculpted by Gabriel Marquez!

Ornament SRP: $29.99

LENORE 

Lenore PVC Figurine Set

The Cute Little Dead Girl just got littler and cuter! This all-new box set of PVC figurines includes Lenore and three friends from her long-running comic book series: Mr. Gosh, Ragamuffin and Pooty. Figurines range from 2 to 4 inches tall, and come packaged in a full-color window box. Dead has never been so cute!

SRP: $29.99
All this stuff (and plenty more) are available in next month's edition (September) of the Previews magazine.