Not that Shadowman is a book that really needs any help in the horror department, but this Halloween Valiant Comics has a special All Hallow's Eve-centric edition of the comic ready to creep onto store shelves.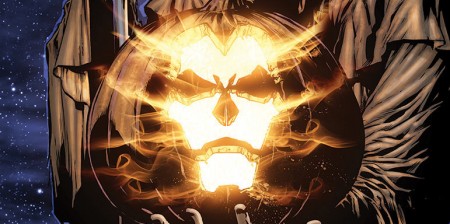 After witnessing the origin of all Shadowmen past and present in Shadowman #10, follow Jack Boniface into his first Halloween in the Valiant Universe! It's All Hallow's Eve in News Orleans – and Shadowman's about to find himself alone on the job, standing guard on the most dangerous night of the year. Still reeling from the fallout of his cataclysmic battle with Master Darque, can Jack go it alone and protect his city from the legion of evils that haunt the Halloween night? By popular demand, it's a special October tale for Valiant's nocturnal guardian – and a perfect jumping-on point for new readers!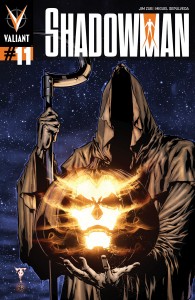 The ancient holiday of Halloween is, of course, practically tailor made for Shadowman. Given the theme of the character is woven into the supernatural and mystical worlds so tightly, it's almost perfect. True, voodoo as a belief system isn't really related to Halloween per say, but the vibe definitely fits and the so does the lore. According to writer Jim Zub, it all makes for a tale that promises to be a "hell-raising, bonfire-blazing adventure"
Halloween mixes in well with the supernatural action and voodoo that drives the series and this issue uses the over the top Halloween revelry in New Orleans as a backdrop for an action-packed caper," Zub told the New York Post. "On a night where everyone is in costume and the imagery of death and the supernatural is all over the place, Shadowman can operate a bit more 'publicly', but the seasonal chaos also presents a whole other set of challenges."
Furthering the Halloween theme, Shadowman #11 will have a special variant cover (aside from Marcus To's standard version and that awesome '8-bit' edition) that actually has a perforated Shadowman mask embedded into it. Yep, pop the cardstock-weighted mask out and you've got a Shadowman costume ready to go, or just a really cool accessory for your comic shelf/wall.
Keep the lights on, Shadowman #11 hits the racks on October 2nd from Valiant Comics and the creative team of Zub and Red Lanterns' Miguel Sepulveda.