Sonic Lost World gets some exposure at the Sonic fan convention, Summer of Sonic.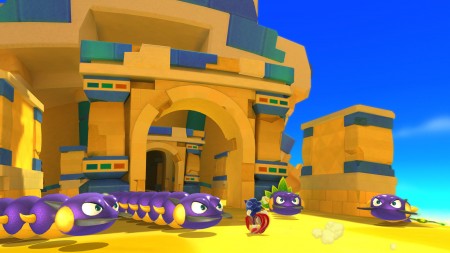 Summer of Sonic is an event held annually in the UK for Sonic fans. It's run by video game journalist Sven Joscelyne, and officially supported by Sega. This year they have some juicy footage of Sonic Lost World, which is shown a little over 6 hours into the stream.
It starts off with Sonic blazing through act 1 of Desert Ruins. The aesthetics are as good as ever; the desert is vibrantly colored with good use of shaders. The gameplay in both 2D and 3D looks fast and smooth, even better than the E3 versions of the levels. You even get a taste of the Silent Forest zone, as Sonic grinds along rail through the jungle, avoiding lasers and making quick work of badniks. You even get to see some wisp action as Sonic utilizes the crismon wisp's power of flight through the desert.
All kinds of old school badniks can be seen throughout the trailer as well. There's motor bugs, what appears to be a clucker,  a grabber, and even mushmeanies. Sonic Lost World will be released for the Nintendo 3DS and Wii U on October 2013.
Source: Summer of Sonic