Larian Studios has announced a special preorder edition of their upcoming strategy game set in the world of Divinity.
The Imperial Edition of Divinity: Dragon Commander is a free upgrade for anyone who preorders the game for download on the PC. It actually includes some pretty cool stuff for a straight up preorder incentive including maybe the best part- immediate access to the Beta.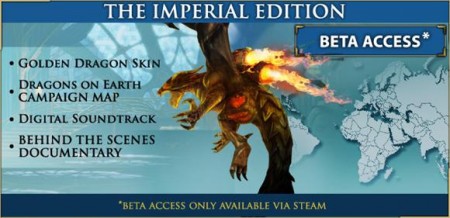 In all you get:
A unique development documentary video
An extra campaign map that has dragons fight for control of the Earth
A golden skin for your Dragon Emperor
A beautifully remastered version of the soundtrack by Kirill Pokrovsky
Dragon Commander's best kept secret: an overview of all the choices and consequences in the game (you'll be amazed)
Immediate beta access(**)
The Beta has already started and preorders are already being accepted through a bunch of the more popular download services, you can get the full info on buying into the game right here.