Spiders Studio's Bound by Flame will be taking medieval dark fantasy to the fiery depths of the LA Convention Center.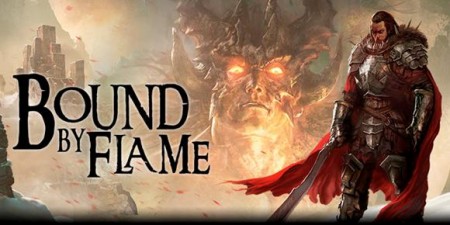 Most recently known for Mars War Logs, a PC sci-fi RPG that's also headed to consoles, Spiders Studio has a very interesting looking title in the hopper that they'll be showing off at E3 next week. The game is called Bound by Flame and it just might make the sword and sorcery crowd cackle with delight.
Bound by Flame lets you play a mercenary possessed by a flame demon in an ambitious Dark Fantasy universe. As a victim of this demonic influence, players will have to choose between the powers offered by this evil or to reject the demonic influence, developing heroic talents instead. Dangers, and enemies becoming more terrifying and fearsome in battle, will be temptations to acquire more power by giving up part of the hero's soul to the demon. Progression of the demonic influence will be reflected by the transformation of the hero's body.
Possession is certainly a novel mechanic that I don't think I've ever heard of in a game before. Sure the Fable series has touched on the whole good/evil bit and even had it affect appearance as well as the land of Albion (Fable's world), but this is a little bit different. The main character in Bound by Flame doesn't become demonic, he's actually possessed by a demon.
The bulk of the gameplay in BbF are your standard RPG quests broken up across various chapters where you'll do battle with all manner of undead creature (demons vs the undead?) and even dragons and ice creatures. You can also heavily customize your character by gender as well as facial 'look'. Spiders says what options you choose here will affect the demons appearance- which is a pretty cool twist right there.
Bound by Flame comes with a crafting system too (where you can create or augment weapons and armor) and non-player characters that will join up with you on your adventures with whom you'll develop "friendship, romance or rivalry."
Spiders has definitely shown themselves to be an ambitious lot, that's for sure. Mars War Logs was a pretty big world that was loaded with stuff to do and Bound by Flame looks to be even bigger and more detailed. We'll see more of the game at E3 this coming week, but for now have a peek at the two new screens for the game.
Bound by Flame is scheduled to encircle Xbox Live, the PSN and the PC by the end of the year.