Nothing lasts forever. That's the tag line for Marvel Comics' upcoming late-Summer crossover event, Infinity. And with the Avengers away from Earth, it might be an apt statement- especially with the mad titan Thanos on a rampage.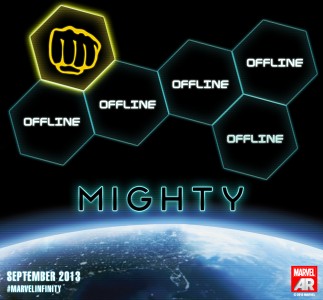 Okay, so step one- go download the Marvel AR App. Step two- scan the pic with it. Step three- enjoy a sneak peek at who's going to be a part of the makeshift Avengers team thrown together to battle Thanos.
You can grab the App right here if you don't have it. And if you don't have it for some reason, really, go get it. Marvel has been doing tons with AR in recent years and this is just the latest cool little nugget that you'd be missing out on without the free download of the AR App.
As for the Infinity event itself, Thanos and his crew come to town (meaning Earth) this August when the 6 issue miniseries starts up with Infinity #1.