Dark Horse has a terrific trio of special edition graphic novels on the way for the launch of the fab four's (or should that be fab five?) new book- The Fifth Beatle.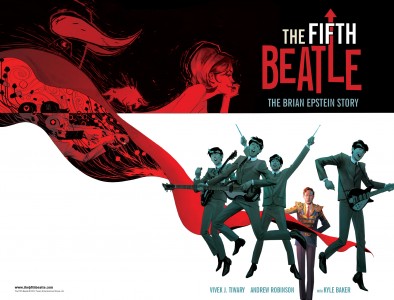 Penned by Tony Award–winning producer Vivek J. Tiwary, The Fifth Beatle tells the story of the oft-forgotten member of the group- Brian Epstein. Who's Brian Epstein? The group's manager and most definitely fifth Beatle.
"Telling the Brian Epstein story is a true labor of love. The Fifth Beatle really is my life's work—as I've been researching Brian's life for more than half my own," says Tiwary. "So it's with great excitement and anticipation that I can finally share this little-known story about one of the great architects of modern pop culture with the rest of the world."
The book tells of the trials and tribulations (as well as personal obstacles) that Epstein encountered in his life, starting with his discovery of The Beatles and culminating in his untimely death at only 32 years old. It's a stunner of a story and one that's on its way towards being a major motion picture release from Sony Pictures.
As far as the Dark Horse comic version of the tale, fans will have their choice of three very cool editions:
The standard hardcover edition will be available for $19.99 in an oversized library format. A collector's-edition hardcover of this groundbreaking graphic novel will also be available, featuring a wraparound, textured cover and a section of bonus materials including Beatles and Brian Epstein memorabilia, artist sketches, and alternate covers, for $49.99.

The limited edition (1,500 copies) features a tip-in sheet signed by creators Vivek J. Tiwary, Andrew C. Robinson, and Kyle Baker, along with a twenty-four-page bonus section including rare Beatles and Brian Epstein memorabilia and behind-the-scenes sketches, a unique, textured cover, and a special slipcase, for $99.99.
The Fifth Beatle: The Brian Epstein Story hits stores on November 19th of this year, but Tiwary will be doing some signings of related merchandise well before that.
You can first catch him at the BookExpo America in New York City this Saturday, June 8th. He'll be at the Dark Horse Comics booth, which is #1003 at 11am. From there, he'll be headed to Charlotte North Carolina where he'll join the book's artist, Andrew Robinson, for a panel presentation at the HeroesCon. That's on the 9th starting at 11:30 am sharp.