Techland's newest title is a dark fantasy hack and slash called Hellraid. And while raiding hell doesn't sound like a great idea, from the developer's Q&A that's just been released, it actually sounds like a pretty fun time.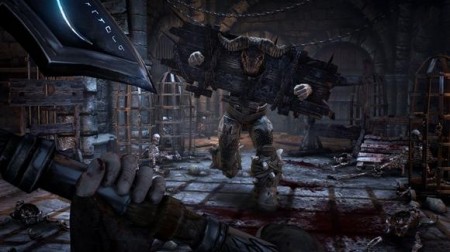 If you're looking for half-answers and mysterious 'wait for E3' comments, you won't find them here. Techland did their darndest to make sure there's no confusion whatsoever as far as Hellraid goes with today's release. I'm an old school fan of Hexen and Heretic, so I was already interested in what kind of FPS-shasher madness the developer was cooking up here, but I'm more than pleasently surprised by what they have to say about the game.
Of particular interest to tabletop gamers (lapsed included) should be the Game Master mechanic, that just sounds awesome.
What is Hellraid?

We're calling Hellraid a first-person co-op slasher. We invented this genre to capture the idea behind our game, which blends elements of classic hack & slash titles with a more advanced combat system based on timing and precision, RPG's, shooters and multiplayer games into one unique experience seen in very immersive, first-person perspective.

Will gamers experience Hellraid only in co-op? What is the main difference between playing solo and in co-op?

Hellraid can be experienced both in single-player and in co-operation. While playing solo you explore the world, complete quests, gather loot and develop your character. In co-operation tension rises when you struggle to achieve mission goals while competing with your friends for points granted for each kill, team-plays and automatically generated challenges throughout the game.

What does the gameplay in Hellraid look like?

In Hellraid you travel between levels using a web of magic portals. Each level can be played an unlimited number of times to complete the story campaign, side quests and to defeat forces of evil with friends while competing for experience, points, rewards and places on leaderboards. During the game players can use a variety of melee, ranged and magical weapons. Combat is expanded with a set of unique active skills for each character class which gives the team additional tactical capabilities while searching for treasure, completing objectives, avoiding deadly traps, fighting the hordes of enemies and boss battles.

Will gamers be able to develop their characters, or customize the weapons and armor?

Each of the four character classes available in Hellraid (Warrior, Mage, Paladin and Rogue) will have their own skill tree that can be developed during the game. Along with that players can customize their weapons using an advanced crafting system or change their combat capabilities and appearance with armor that can be bought in shops, traded between the players or found during the game.

Who or what is Game Master?

Game Master is a complex system inspired by pen and paper role-playing games that makes each play through of Hellraid a different, completely new experience. In co-operation mode, Game Master carefully selects competitive challenges for players and awards the best ones at the end of each level. It changes where and how you and your friends complete quests, placement, numbers and types of enemies you encounter as well as deploying treasure chests and loot.

Will Game Master work in single-player as well?

Yes, Game Master will alter the experience in single-player the same way it does in co-op but without the competitive challenges which are unique for playing with your friends.

How long is Hellraid and when it will be released?

Thanks to Game Master and the varied experiences that it provides, Hellraid will give players hundreds of hours of pure fun. The game will be released in 2013 for PC, Xbox 360 and PlayStation 3.
So there you have it; battle for points, rewards and fame in 'co-op' mode or all by your lonesome in one of the more interesting games on the schedule for release this year.