DST took the armored wraps off the first series of Iron Man 3 Minimates at last week's Toy Fair expo in NYC. Your first look at the mini-Mandarin awaits post jump.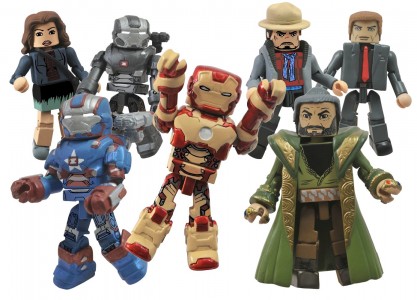 So that's your roster shell head fans, but there are some retailer exclusives to be had as well and a whole bunch of 'yet to be announced' stuff.
As far as exclusives go the War Machine with Maya Hansen and Aldrich Killian with Cowboy Tony Stark sets will only be found on comic shop shelves while the Iron Man with the Mandarin and Iron Patriot with "a top-secret figure" sets will be carried only at Toys R Us'. And that figure is so 'top secret' that he's not even shown in silhouette form in the above image. Personally, I'm rooting for MODOK.
And just in case that's not enough Iron Man 3 goodness for you, there's also a super secret box set on the way and a pair of the two packs that are yet to be announced.
Clear some space in that Minimate display guys and gals, you're gonna need it.