Ah Valentines Day… A day of love, togetherness, and more than likely no games since you'll be taking your sweetie out for that romantic dinner. Right? …Well just because the Xbox and the PS3 will be idle tomorrow doesn't mean you can't inject a little gaming goodness into the big day.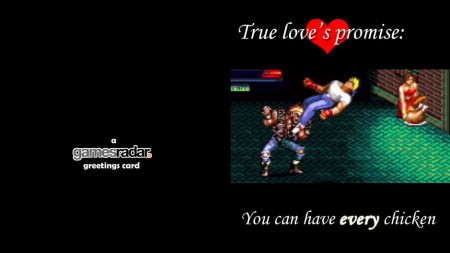 How about a card that professes your insane love for your gal or guy a'la Far Cry 3? Or maybe one that kindly asks for that special someone's company as only BioShock's Andrew Ryan could?
Click on through the link dear reader and be taken to a magical world of printable greeting card wonder, where the only limit to how many you can crank out is how much ink you've got left in the printer. My personal pick? The Streets of Rage II card… even though it is somewhat unrealistic.
I mean, "you can have every chicken"? Come on, nobody's that nice.
Source: GamesRadar