Fire Emblem Awakening will be getting the full custom console treatment for the series' 3DS debut next month, and there's a very interesting twist that may or may not have some very nice lasting implications.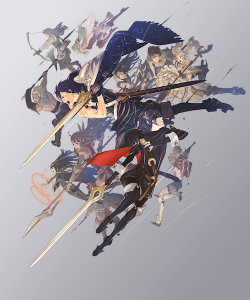 First the meat and potatoes- the 3DS console included in the bundle will be  blue in color and will feature some snazzy Fire Emblem artwork splashed across it. A 4GB SD card will also come with the pack, but neither of these things are the most interesting part of this set in and of themselves.
No, most interesting here is that Fire Emblem Awakening will actually be included on the hardware itself as a digital title instead of as a game card. That's pretty telling as Nintendo has never really done anything like this before, but has been making much more of an online push as of late than it ever has in the past.
And including the game as a digital offering is just the start, as new maps will be available right from the game's launch as DLC. The first map will be available for free (for a limited time) with others hitting the title on a weekly basis with access via the game's world map. That's a pretty solid digital commitment to the game and a welcome sight from Nintendo.
There's a lot that can be made from this announcement too, if you are so inclined. Might this mean that we can expect to see this kind of thing from Nintendo in the future, or is this a one-off kind of thing? Including games on the hard drive, or in the case of the 3DS a memory card, is certainly way more cost effective than including an actual game card or disc in the box.
Thinking a little bigger (and totally theoretically), might something like this also usher in a new age of the packed in game? Back in the 8 and 16bit eras it was a pretty common sight to get a 'free' game included with your console. I'd imagine that that's something players would certainly welcome back with open arms.
But that's all wishful thinking at this point. The reality is that the Fire Emblem Awakening 3DS box set will be available right alongside the game's launch on February 4th for $199.99 USD. A demo of the game will be available on the eShop as well if you'd like an advanced look at the latest Emblem title- look for that this Thursday the 17th.