Marvel Comics' Marvel NOW! initiative continues to change the face of the classic comic universe in some pretty monumental ways (especially for old school fans). The next big thing for the publisher and its stable of characters? XX.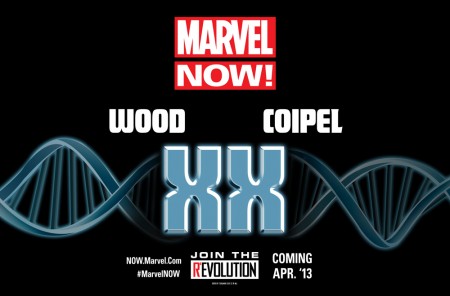 Of course, just what XX is is a pretty big mystery at this point.
The single teaser image released by Marvel today simply shows the two letters emblazoned across a DNA helix with the names of the creative team, Brian Wood (The Massive, Star Wars, Conan) and Oliver Coipel (House of M, Thor), scrawled above. That's pretty well open to interpretation.
With a DNA helix involved, I can't help but think it has something to do with everyone's favorite merry band of mutants- the X-Men. The 'XX' might refer to a female character (or characters) who'll take center stage… but who knows?
One good thing for fans is that they won't have to wait too long to find out what's going down. The next Marvel U altering event will be in April of this year when XX (whatever it may be) kicks off. Till then- 'suppose' away dear readers.