No, this has nothing to do with the Marvel Comics spy organization- hardware maker NVIDIA's Shield is a brand new handheld console just announced at the CES, and it just might surprise you.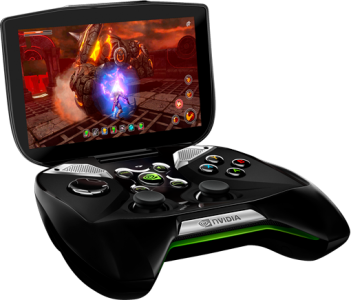 The clamshell-style portable sports a very nice looking (and fully featured) console style controller, a nice touch and well needed for the big releases that the company will be looking for gamers to play on the device.
Impressive feature number two? Shield folds open to reveal a "retinal" HD, multitouch, 5″ display that promises to run games at 1280×720. Pretty sharp.
Specs? Yeah those are sounding pretty great too:
At the core of Project SHIELD is the world's fastest mobile processor, the new NVIDIA Tegra 4, which delivers enormous power from its custom 72-core GeForce GPU and the first quad-core application of ARM's most advanced CPU core, the Cortex-A15. These, combined with its battery-saver core and energy-saving PRISM 2 technology, deliver hours of gameplay on a single charge.
Shield (which is just a placeholder name right now) reportedly can not only run Android titles from NVIDIA's game store,  but also stream PC games from your gaming rig over wi-fi. That in and of itself just might be a system seller of a feature for quite a few gamers out there.
I'd be lying if I said the Shield wasn't an interesting device without the PC streaming (which is compatible with Steam by the way), but with it- it enters seriously tempting territory.
As far as studio interest, it's definitely there with a number of big gaming names speaking out about NVIDIA's baby already. At the top of that list (as you might expect) is Ubisoft:
Yves Guillemot, co-founder and chief executive officer of Ubisoft, said: "Ubisoft is always excited about new hardware developments, and Project Shield promises to bring both mobile and PC gamers a great new gaming experience. Seeing the PC version of Assassin's Creed III run on the device is a great example of this, and further strengthens Ubisoft's long-standing relationship with NVIDIA."

Mark Rein, vice president and co-founder of Epic Games, said: "With Project Shield, NVIDIA brings an uncompromising, high-performance console experience to mobile devices. Amazing games including 'Real Boxing' and 'Hawken,' which utilize the latest Unreal Engine technology, look fantastic on Project SHIELD. This is just the beginning, and we're truly excited to see what more Unreal Engine developers will do with so much horsepower in such a compact gaming device."

Bill Wagner, chief production officer at Meteor Entertainment, said: "Coming from the openness of a PC platform, we love how accessible Project SHIELD is, and the flexibility it gives gamers everywhere. Project SHIELD gives us the cutting-edge ability to bring a huge free-to-play PC game like 'Hawken' to the handheld gaming audience."
Intrigued? We'll have more on the NVIDIA Shield as it develops.