With series 1 in stores now and collecting a bunch of the best of the best that the Marvel Minimate line has had to offer over its 50 series', Diamond has officially announced thast more are on the way.
Series 1 includes two packs featuring Spider-Man and the Green Goblin, Captain America and Thor, Iron Man and the Thing, and Wolverine and Sabretooth. That's a bunch of the heaviest hitters in the classic Marvel U, including the 'big three' Avengers. A solid lineup for sure that's available now at your local comic shop.
The planned second set that was just announced almost matches it though in sheer coolness.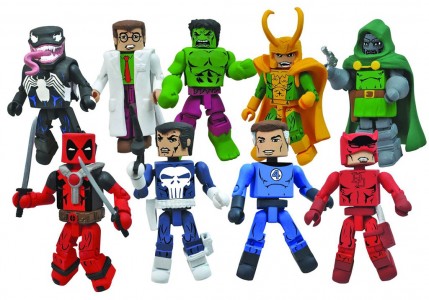 Minimates that should be on every collectors shelf; series 2 features Doctor Doom and Mr. Fantastic, Venom and Daredevil, The Punisher and Deadpool (my personal favorite set out of the series), and Hulk and Loki (Hulk smash puny god!). Oh, and one extra-awesome thing about that Hulk? He can actually transform into Bruce Banner thanks to a bunch of extra parts packed into the set with him and Loki. Yeah, that's right, that's not a variant- it's technically the same figure. Awesome.
There's no release date as of yet for the 'Best of' series 2, but be on the lookout for them soon at your local comic or specialty shop from Diamond Select Toys.