The more 'kid friendly' Spawn title is now available on e-comic format comiXology.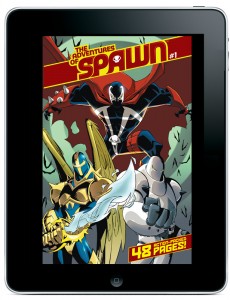 Todd McFarlane's Spawn has never been all that kid safe, but the Adventures of Spawn book makes the usually more horrific superhero "Saturday morning cartoon" safe for the younger set.
Kid-friendly and in the colorful, action-packed style of Saturday morning cartoons, THE ADVENTURES OF SPAWN originally premiered as a webcomic on Spawn.com and was collected into print trade paperbacks in 2007 and 2008. Filled with pulse-pounding battles, betrayal, revenge, and the clash between the Forces of Light and the Forces of Darkness, THE ADVENTURES OF SPAWN is the title for parents to share their love of SPAWN with their children — and for them to sneak a moment of fun-filled adventure, too.
 The Adventures of Spawn is available now from Image Comics on comiXology.