The brand new NAOS 8200 will be mousing around on PC's everywhere in 2013.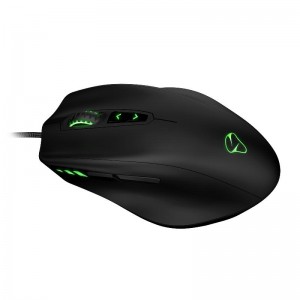 There's no shortage of gaming-centric mice on the market for PC gamers, but Swedish company Mionix is looking to up the ante a bit with the NAOS 8200. The mouse sports a pretty impressive stat sheet including a 32bit ARM processor and an 8200 (hence the name) DPI sensor.
And for those of you who are into the bells and whistles- it's actually got a pretty neat lighting system on board too. Heres the spec list straight from the developer:
* Truly ergonomic design

Award winning truly ergonomic design with support for all five fingers.

* Lighting fast processor
The 32-bit ARM processor running at 72 Mhz is the powerful engine to power it all.

* 8200 DPI laser sensor
Remarkable tracking performance built for gaming.

* 128 kb built-in memory
Bring your settings and recorded macros with you stored into one of 5 profiles.

* Customizable LED lighting system
Personalize your mouse with up to.16.8 Million colour options.

* Stunning lighting effects
Solid, Blinking, Pulsating and Breathing effects running single colour or colour shift.

* S.Q.A.T™ – Surface Quality Analyzer Tool
Surface Quality Analyzer Tool measures tracking quality of your gaming surface.

* In-game 3 step DPI adjustment
Set 3 DPI values and switch easily between them in-game.

* 7 fully programmable buttons
The buttons can be assigned to any key, function, mouse command or macro.

* In-game profile switch
Switch easily between stored profiles in-game.

* Adjustable polling rate
Tune it all the way up to 1000 Hz and up to 1 ms response time.

* Plug n Play
Completely Plug n Play, software needed only for configuration.
The NAOS 8200 is available for pre-order right now and should be hitting retail later this month. It'll cost you $89.99 USD.