Harbinger Wars #1 marks the arrival of the first big universe spanning crossover from Valiant Comics.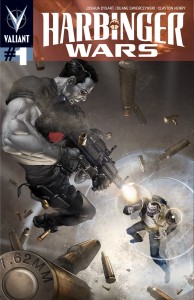 The book crosses both Harbinger and Bloodshot into a war that will rage across the entire Valiant U and pits the US government's own super-soldiers against the Harbinger Foundation with Bloodshot and Peter Stanchek caught in the middle.
For decades, Toyo Harada's Harbinger Foundation and the government's own Project Rising Spirit have been waging a secret war over the rarest resource known to man – the unwieldy superhuman telekinetics known as harbingers. Over the years, they've each collected a small army of these empowered children to inflict their agendas on the world. But now the reformed harbinger hunter known as Bloodshot needs to atone for his crimes – and he's going to start by releasing two dozen of the most volatile harbingers from their PRS prison and into the world.

Bloodshot wants to lead them. Toyo Harada wants to control them. And, Peter Stanchek, a teenage renegade with immense powers of his own, wants to give them free rein. But the runaway children of PRS have their own ideas for the future…and, as the body count rises, the Valiant Universe will realize that power this immense cannot be contained. It must be exercised. Who will survive the Harbinger Wars?
Staging a big crossover event can be a little tricky to say the least, but Valiant has pretty much gotten everything right with their relaunch so far so there's no reason to doubt that Harbinger Wars will be anything less than something special.
Chief Creative Officer Dinesh Shamdasani also notes of the event that "We're designing each component to stand on its own, and we couldn't be prouder of the three creative teams that will be making Harbinger Wars a crossover unlike anything else on the stands."
It's always nice when readers don't have to buy in for each and every crossed-into issue of every book in order to get the whole tale as goes their favorite comic.
Look for the 12 issue Harbinger Wars crossover to start off in the pages of Harbinger Wars #1 (that's fitting) this April from the creative team of Josh Dysart, Duane Swiercyznski and Clayton Henry.
Want in on the whole event? Here's your complete checklist of what to get and who it's coming from:
•HARBINGER WARS #1-4 by Joshua Dysart, Duane Swierczynski & Clayton Henry
•BLOODSHOT #10-13 by Duane Swierczynski & Barry Kitson
•HARBINGER #11-14 by Joshua Dysart & Khari Evans