Sink your fangs into this- Profiles in History will be putting the famed author's actual writing desk (where modern vampire lore was born) up for auction.
Stoker (1847-1912) actually penned the tale of the vampire lord while sitting at this very desk, which is just awesome if you're a vamp fan or just a lover of literary history. The writer had given the piece of furniture to his friend  JSR Phillips at the turn of the last century and it wasn't in the greatest of shape.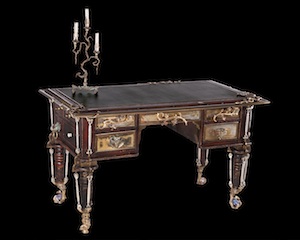 Things went downhill from there too as the desk has been battered, 'height-adjusted' (read: legs sawed shorter), had been rendered drawer-less, and so forth. Not the prettiest of pictures. At some point over the years though, the piece found its way into the hands of furniture artist (no, I didn't know there was such a thing either) Mark Brazier-Jones.
To put it mildly, the man knows his stuff:
Brazier-Jones states in part: "Even as a new desk, in its day, this was a modest item of furniture, a place for a man to work, and yet possessing a noble honesty.  I wanted to keep the desk complete and intact, to save all its scars and broken varnish, this history alive with its gnarled textures…I decided to attach, via callipers and clasps the necessaries to regain functionality.  To this I have also embroidered imagery appropriate to the great man's inspirations and imaginings.  I visualize Stoker sat pen to paper contemplating a moonlit rose garden, breathless milk white cleavage and blood soaked lace.  All the fixtures and fittings I have created are in bronze and burnished steel. He has also leather lined two secret compartments I have devised (the position of which will only be revealed to the final owner of the desk).  There is also a bronze 'treasure chest' secret compartment carved with a tangled rose vine bas-relief.  This, though hidden, can more easily be found and as such may act as a decoy for the other two compartments. The face panel of each drawer is acid etched through to copper and nickel layers.  The effect is to subtly represent a misty tableau of Whitby Abbey by moonlight high on the cliff above Whitby Harbour surrounded by gravestones and bats.  Over these drawer fronts are five bronze handles, each one different.  On the lower left, a bat, to the lower right, a savage hound (in Stoker's book Dracula arrived in Whitby as a giant dog).  The three upper drawers consist of scrolling rose thorns and buds.  The interiors are lined in deep buttoned blood red velvet.  The baroque rose motif is used again where they seem to crawl up and across the table top frame giving the feeling time has stopped like an overgrown grave."
Now the birthplace of Dracula is finally prepped and ready to go to auction as much as a piece of artwork as anything else. Brazier-Jones has also crafted the fully functional candelabra that you see in the picture to go along with the main event writing desk. That's pretty cool and one heck of a toss-in.
So what's something like this expected to go for at the Profiles' Hollywood auction on December 15th & 16th? Well, this piece is the stuff of history- and it's valued as such. Look for the desk of Bram Stoker, when all's said and done, to sell for $60 to $80,000 USD.