Retro NeoGeo gaming on the go this December.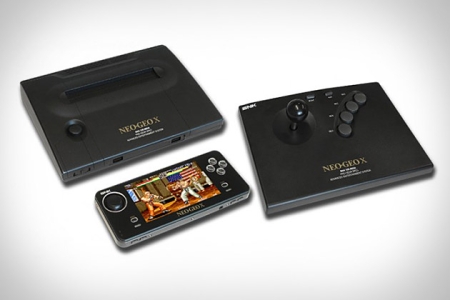 The NeoGeo retro handheld, the NeoGeo X, has been given a release date by it's European distributor Blaze.  It will be coming out on the same day as it will in North America, December 6th, and will retail for £175 or €199.
The console will come pre-loaded with 20 NeoGeo AES games and, if you pre-order, you will get a special edition version of the console that comes with a bonus game card for Ninja Masters.  Both editions of the console include a charging dock and you can connect it to a TV via HDMI.  There's a fight stick you can use as well.
The full list of pre-loaded games is as follows: –
3 COUNT BOUT.
ART OF FIGHTING.
ALPHA MISSION II.
BASEBALL STARS II.
CYBER LIP.
FATAL FURY.
FATAL FURY SPECIAL.
THE KING OF FIGHTERS '95.
KING OF THE MONSTERS.
LAST RESORT.
LEAGUE BOWLING.
MAGICIAN LORD.
METAL SLUG.
MUTATION NATION.
NAM 1975.
PUZZLED.
REAL BOUT – FATAL FURY SPECIAL.
SAMURAI SHODOWN II.
SUPER SIDEKICKS.
WORLD HEROES PERFECT.
Source: Eurogamer