Kids. They grow up so fast!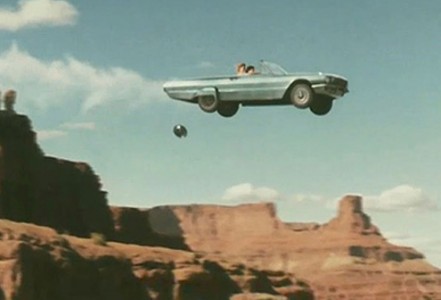 Video games are my passion and my hobby, but in my real-life job, I do IT work for a small business. Some days are filled with all sorts of technical issues and other days are nothing but smooth sailing. Friday, was a bit of both, and when my wife sent me a text message later in the afternoon, informing me that the kids were eager to have their dad home, I "yabba-dabba-doo'ed" it out of there at the first opportunity.
When I walked through the door, I expected to be greeted with much jubilation, which I was, but my 5-year-old melted by heart with when he excitedly exclaimed, "DAD! I know how to drive a car!" My 3-year-old also squealed enthusiastically feeding off of his old brother's energy. "I can drive, too!" the littlest one added.
"That's great!" I replied. I looked at my wife for answers. She was smiling.
"Your boys have been playing so well together today. They've been downstairs playing games. It's very cute."
Both boys ran downstairs, returning to their game in-progress. The sound of police sirens and roaring engines erupted from the family room as the game unpaused. I followed them downstairs to see them sitting on the floor in front of the television. My 5-year-old, holding a white Xbox controller, was staring at our television with rapt attention. The 3-year-old sat right next to his brother, his knees touching his brother's, an indication that today really was a good day of bonding. In his small hands was an unplugged, upside-down GameCube controller. Even though it was obvious that only one person was playing the game, the littlest one was "pway'ing, too."
They were playing Need for Speed: Hot Pursuit on the 360. A police cruiser was hot on the tail of a speeding car.
As a parent, bonding moments like these are priceless. My wife and I stood and watched them. It was the perfect way to start the weekend!
When I stopped the admiration, I starting watched him play. Much to my surprise, he was actually doing a really good job controlling his vehicle! The bad guy's speeding car swerved and tried to evade, but the 5-year-old police officer was keeping up with his every move. A new era was upon us. The days of driving constantly driving into the wall of Mario Kart, or traveling in the wrong direction, were done.
I immediately started doing math in my head: Did I have that kind of hand-eye coordination when I was 5?
The answer was no. I didn't. At least it wasn't in the game way. My first gaming experiences were on an Atari 2600 and later on an Apple //c computer, and I don't think that even started until I was a couple of year older than him.
Not only is my 5 year-old learning how to control these games, but he's in kindergarten this year, and is really picking up on learning to read. By this time next year, he may not need my help playing a game. This whole "evolution" also means that the eldest child's, our 13-year-old, days of hijacking the game controller, when his brother is stumped, are numbered. Those chivalrous moments of, "Let me show you how to do this, hold on a second, I promise I'll give it back, just let me finish this quick part," are quickly coming to an end.
It was a great way to start the weekend. It was a proud parenting moment, watching my kids excitedly figure things out and play nicely together. As a gaming dad, I'm proud because my kids are enjoying something that I have since I was about their age. And lastly, perhaps the greatest victory, is that I've practically been guaranteed to be able to enjoy gaming (including all the games and consoles) for the next decade, using them as an excuse, when all else fails.
🙂