PC gamers eagerly awaiting their free-game-fix for July should get set to play Telltale's Batman sequel, as well as The Wanderer, Rad, and more.
The Dark Knight returns
Last month Amazon offered up the first Telltale Batman game for Prime Gaming subscribers, and this month it's The Enemy Within. The sequel to the original adventure title, part 2 introduces Joker and a dual path situation, where Batman can guide the clown prince into becoming kind of an anti-hero.
Other than that, The Wanderer arrives as well, bringing a unique take on Frankenstein's monster. There's also Rad, Tales of the Monster and more.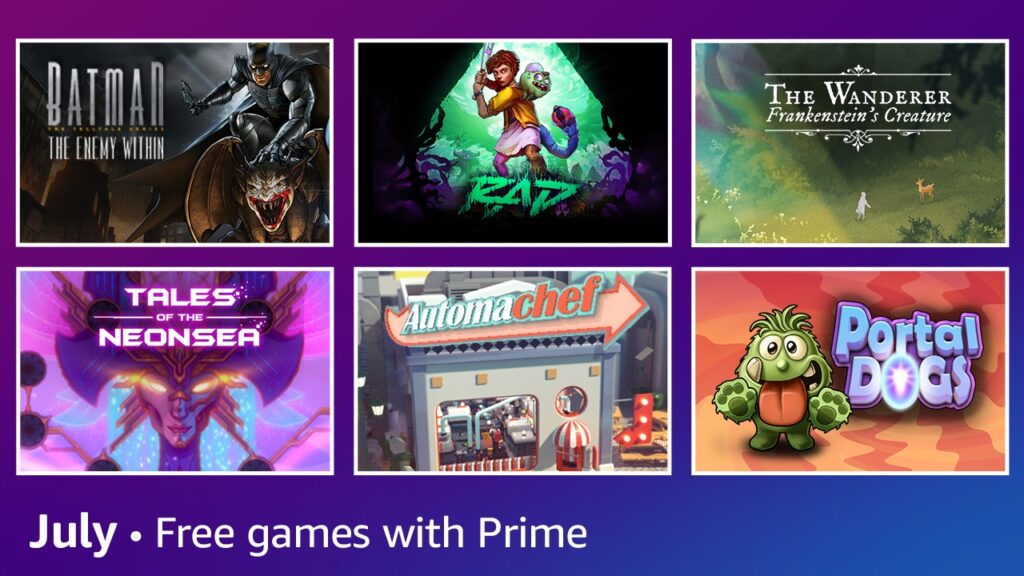 Batman: The Enemy Within – The Telltale Series – Help both Bruce Wayne and Batman as they are forced into new precarious roles in the latest chapter of the Batman – The Telltale Series. 
RAD – Jump into a 3D action rogue-like set in a post-post-apocalyptic world, where humanity has faced armageddon not once, but twice.
The Wanderer: Frankenstein's Creature – Experience the Myth of Frankenstein through the innocent eyes of his creature, while making decisions and changing people's view that you will meet on your way.
Tales of the Neon Sea – Dive into a world of intrigue and suspicion, where humans and robots contend with escalating tensions and mutual distrust and where gangster felines scheme their way to the top of the food chain.
Automachef – Test your skills in Automachef, a resource management puzzler where you design kitchens, program machinery and watch your genius come to life!
Portal Dogs – Test your skills in the puzzle platformer Portal Dogs, a horde of dogs are following their king through the portal world. The catch: you play with all dogs simultaneously.
Look for the above to post for free, on Amazon Prime Gaming, on July 1st.
Add-ons galore
As usual, there are a ton of free add-ons coming throughout this coming month. Check out the full calendar below for the list.
Now Available Apex Legends – Revenant Sakura Steel Skin
Now Available Assassin's Creed Valhalla – Druidic Settlement Bundle, Black Raven Settlement Pack, Mystical Settlement Pack, 5x One Hour XP Boosters
Now Available Last Day on Earth – Caps x1000
Now Available League of Legends – Mystery Skin Shard
Now Available Legends of Runeterra – Epic Wildcard
Now Available Rainbow Six Siege – Exclusive Sunstark Operator Bundle
Now Available Rogue Company – Kick and Dip emote
Now Available VALORANT – Exclusive EP 2 // Formation Player Card
Now Available Word Farm Adventure – Piggy Bank Smash
July 1 Free Games With Prime – Batman: The Enemy Within – The Telltale Series, RAD, The Wanderer: Frankenstein's Creature, Tales of the Neon Sea, Automachef and Portal Dogs
July 1 Last Chance to Claim Batman – The Telltale Series, Newfound Courage, Lost in Harmony, BFF or Die, Spitkiss and Mugsters
July 1 Epic Seven – 20x Leif
July 1 Madden – 1x elite player 80+ OVR, 2x gold or better players 70+ OVR, 3x silver players 62+ OVR
July 6 Mobile Legends: Bang Bang – Amazon Prime Chest, Hero Trial Cards of Saber (7-day), Skin Trial Cards of Saber-Onimaru (7-day), Hero Trial Cards of Johnson (7-day), Skin Trial Cards of Johnson-Wreck King (7-day)
July 7 Alliance vs Empire – White Diamond x500, Enhancement Guard Ticket x50, Hero's Blessing x1, Treasure's Blessing x1
July 8 Dauntless – Arcslayer Mortar Spear War Pike Bundle, 1x Arcslayer Mortar Spear War Pike Skin, 1x Supply Pack, 1x Primus Purple Armour Dye
July 8 V4 –  Special Support Package + Blessed Enhance Scroll Choice Chest + Cursed Enhance Scroll Choice Chest
July 20 Mobile Legends: Bang Bang –  Permanent Skin Alpha – Fierce Dragon, Amazon Prime Chest, Hero Trial Cards of Argus (7-day), Skin Trial Cards of Argus-Dark Draconic (7-day), Hero Trial Cards of Lunox (7-day), Skin Trial Cards of Lunox-Butterfly Seraphim (7-day)
July 21 Alliance vs Empire –  White Diamond x500, Emerald x50, Enhancement Guard Ticket x50, King's Blessing x1, Benuv's Blessing x1