One book to rule them all… as long as you're talking about books that reference August 1961 that is. That's Marvel's latest massive omnibus.
Back to the start
It's August of 1961. And in that hot summer, came the beginning of a new age of comics, a Silver Age. Among other classics launched in that time, a little book called Fantastic Four #1 hit the racks. Of course, that was far from all, but it's likely the biggest of the lot, and the best remembered.
Now Marvel Comics is looking back, and preparing what's the first of its kind, and a time capsule of sorts. Stan Lee and Jack Kirby's Fantastic Four #1 leads the charge for the MARVEL: AUGUST 1961 OMNIBUS. But also included in its pages will be: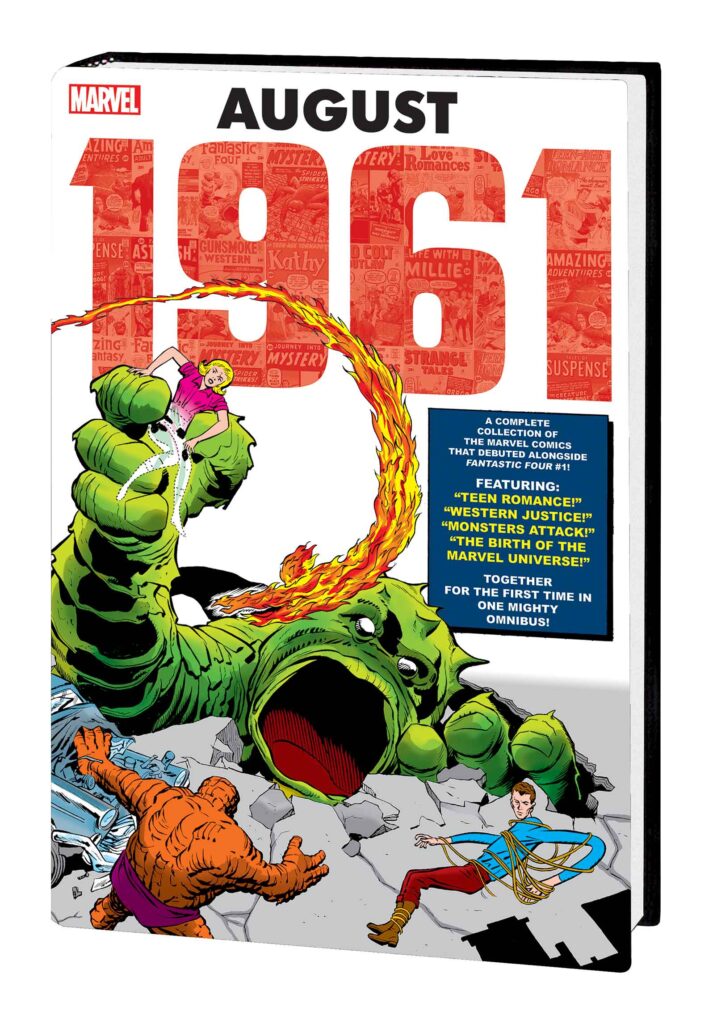 JOURNEY INTO MYSTERY (1952) #73-74
KATHY #13
LIFE WITH MILLIE #13
PATSY WALKER #97
AMAZING ADVENTURES (1961) #6
FANTASTIC FOUR (1961) #1
KID COLT, OUTLAW #101
LINDA CARTER, STUDENT NURSE #2
MILLIE THE MODEL #105
STRANGE TALES (1951) #90
TALES OF SUSPENSE (1959) #23 
TALES TO ASTONISH (1959) #25
GUNSMOKE WESTERN #67
LOVE ROMANCES #96
TEEN-AGE ROMANCE #84
AMAZING ADULT FANTASY #7
PATSY AND HEDY #79
RAWHIDE KID (1960) #25
Aside from the aforementioned, that's a list that includes the likes of "Steve Ditko, Don Heck, Stan Goldberg, Al Hartley, Paul Reinman, Jack Keller, Dick Ayers, Bob Forgione, Vince Colletta, and more!" It's a ton of talent for a book that's shaping up to be pretty interesting. And, knowing Marvel, one that might be just the start of a brand new line.
Ready to dive in? MARVEL: AUGUST 1961 OMNIBUS hits shops this coming August.