Classic horror icons meet, as heroic space vampire Vampirella takes on the mad scientist from the ReAnimator series. This one's got vampires, the risen dead, and Mayan gods.
Pulp horror reborn
In Vampirella vs. ReAnimator, Herbert West–the ReAnimator–has long sought the secret to perfecting his reagent and break death's hold on mankind once and for all. The key to his success lies in only one place–the forbidden tomb of the Aztec god of death! But disturbing sleeping gods is as troubling (to put it mildly) as raising the uncontrollable, murderous dead… especially when this deity is an ancient enemy of Vampirella of Drakulon!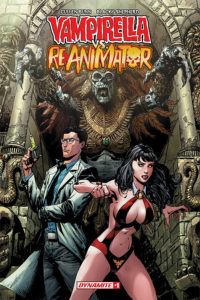 I am unaware of much of the ReAnimator fiction, but even so this sounds great. It's a mix of famous characters, which is cool to begin with honestly. But past that, this story from Cullen Bunn and artist Blacky Shepherd sounds pretty great. It sounds so pulpy it's hard not to immediately want to read.
This isn't the first time that ReAnimator has crossed with another horror star however. Dynamite Comics actually brought the gross-out horror franchise over to Army of Darkness (which I might have to read as soon as I'm done with this article) not that long ago. From there, Herb got his own standalone series from the company, so it was quite a launching point. As for Vampy, everyone should be well aware of the alien vampire and her history with the publisher. They've been producing Vampirella books since 2004, which is a shockingly long time at this point.
Vampirella vs. ReAnimator #1 is set to arrive on stands this coming December, and it'll have a full selection of variant covers. Johnny Desjardins, Stuart Sayger, and Blacky Shepherd will all have alternate covers for the book, and there'll even be a cosplay variant.