Yes Nintendo Switch gamers, it's ARMS time. Nintendo's latest original IP hits their latest console, along with a few other offerings.
A spring-loaded good time
ARMS is the main event this week, there's little doubt of that. Being a new IP is one thing, but being a new Nintendo IP for a Nintendo console that has little in the way of a library is another. Basically, I think it'd be foolish to think that ARMS will do anything but sell extremely well.
And it actually looks like a fun time too. I've heard the criticisms that the game has too few characters, and no story mode, but honestly – who cares? This is Nintendo we're talking about here. Fans don't really care if a game is lacking in some areas as long as it plays great. I doubt Nintendo would drop ARMS out there as a launch window title if it didn't.
If you're not sold however, hang on for a bit and check out our review, which'll more than likely be along next week.
As for the rest of the Download this week, it's about what you'd expect, with a twist. The twist being that there are actually some more Switch games to talk about. Both Cave Story+ and Mighty Gunvolt Burst arrive this week, along with the signature Neo Geo offering.
One thing I was sure we'd be talking about as well, post E3, was the Virtual Console on the Switch. And yet, here we are and there isn't one. Still waiting Nintendo…
Here's the full rundown on what's available this week:
Nintendo eShop on Nintendo Switch
ARMS – Fighting superstars from around the world share one thing in common: extendable arms! Fight as never before: equip each arm of each fighter with a super-powered weapon to create a slew of unprecedented combinations. Then use simple motion or button controls to dish out highly strategic beatdowns in 1-on-1 or even 2-on-2 battles! The ARMS game will be available on

June 16

. (Additional accessories required for multiplayer mode. Sold separately.)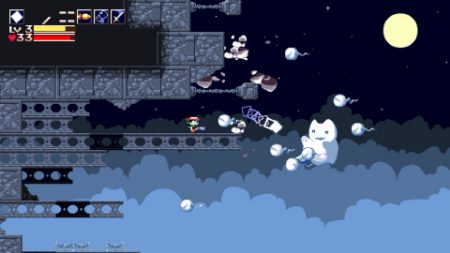 Cave Story+ – A young boy wakes up in a cave with no memory of who he is or how he got there. Join him in an action-packed adventure of thrills and discovery: Cave Story+, the definitive edition of the classic game, will be available on the Nintendo Switch console on

June 20

.
MIGHTY GUNVOLT BURST – Rather than make a direct sequel to its bite-sized 2D action game Mighty Gunvolt from 2014, Inti Creates has made the next installment in the Mighty Gunvolt series. MIGHTY GUNVOLT BURST is a new full-sized game that features characters from multiple universes, with Gunvolt (Azure Striker Gunvolt) and Beck (Mighty No. 9) taking the stage once again.
Nintendo eShop on Nintendo 3DS
Runbow Pocket – Runbow Pocket is a fast, frantic game in which you can conquer more than 145 levels. The world changes with each swipe of color, so you'll have to stay on your toes as platforms and obstacles disappear. Runbow Pocket will be available on

June 20

.
Nintendo eShop sales:
Nintendo eShop on Wii U and Nintendo 3DS

Save up to 50 percent on select digital games! Celebrate Nintendo at E3 2017 with savings on select digital titles in fan-favorite franchises, including Super Mario, The Legend of Zelda, Metroid and more. Sale runs until

June 20 at 8:59 a.m. PT

. Visit https://e3.nintendo.com/sale for more information.
Great deals this week! Check out the full list of deals on Nintendo 3DS and Wii U available this week at http://www.nintendo.com/games/sales-and-deals.
Activities:
My Nintendo Daily Poll – Make your voice heard and earn a chance to win great Nintendo prizes!

Attention My Nintendo members! When you vote in the daily poll at e3.nintendo.com, you'll be entered in the My Nintendo Sweepstakes for a chance to win a Nintendo Switch system, games and more. You can also earn 50 My Nintendo Platinum Points each day you vote. Note: You must be a My Nintendo member to be eligible. Good luck!
NO PURCHASE NECESSARY. Void where prohibited. Open to My Nintendo members who are legal residents of the US (incl. DC) and Canada (excluding Quebec), 13 years or older. Promotion begins at

5:30 p.m. PT

on June 13 and ends at

9:59 a.m. PT

on

June 16

. To enter, participate in poll as stated in Official Rules. Thirteen winners will each receive one prize package (ARV US $115.00–419.97). For Official Rules, visit https://e3.nintendo.com/my-nintendo-sweepstakes/#rules. Sponsor: Nintendo of America Inc.
To celebrate ARMS for Nintendo Switch, My Nintendo is offering ARMS wallpapers featuring all ten fighters!
To receive, simply redeem the required My Nintendo points. The wallpapers are available … now!
Also new this week: