Back in 1989, Michael Keaton was Batman. And now thanks to Mezco's latest SDCC exclusive, he is again.
I'm Batman
Batman '89 pretty much redefined what was a stagnant, barely-existent superhero film genre. There weren't many, even in the years after Keaton donned the black armor of the Bat. Good superhero flicks were few and far between back then. Certainly not like today.
That's probably a good chunk of what made director Tim Burton's DC Comics movie so fantastic. Yes, it payed solid homage to the source material, but it was also a good movie. And hey, it was a serious take on Batman too, which didn't hurt it's popularity.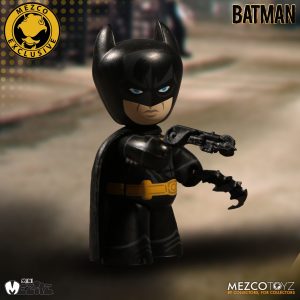 And if you loved that movie, then you're going to love this new San Diego Comic Con exclusive from Mezco. A part of their cartoony Mez-itz line of stylized figures, this Burton/Keaton-inspired figure comes equipped with grapnel gun and batarang. Both accessories fit in his hands, and both are removable.
The little guy stands in at just 2″ tall, and comes packed on a die-cut card that's crafted to look like old Toy Biz Batman figure packaging. You'll be able to snag one for yourself at Mezco Toyz SDCC booth # 3445 on the show floor or via their website here. As a nice little bonus too, he could be almost free of charge.
How's that? Well, if you buy him along with another Summer exclusive from the company, they'll give you a $7 USD discount. the figure is priced in at only $8, so you're effectively paying a buck for him if you're ordering something else too. Pretty awesome.
IF you order online though, just remember that he'll be shipping some time between July (when you can get him at the Con) and September.