The third in a series of exclusives that Factory Entertainment will have on hand at SDCC, these STAR Labs name tags are pretty sweet for Flash fans.
Be a STAR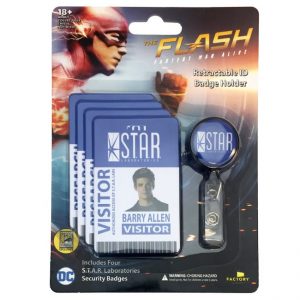 It's true that you won't actually be a STAR Labs employee if you're wearing one of these tags, but it's kind of the next best thing. After all, it's not like STAR is actually… real of anything. So, you know. These tags sure are neat though, and should fit right into the collection of anyone who's a Flash devotee.
It's a pretty generous pack too, as it includes all four tags that you see in the promo shots here. And they're all affixed to cool "retractable 36″ length cord attached to a belt clip and vinyl strap" too. So your cosplay will look pretty legit.
You can expect to be able to pick these up at Factory's SDCC booth, or you can have them shipped as well. That's not something that you usually find with San Diego exclusives, so it's a nice little touch from the company. As for cost, each pack will run you just $15.00 USD.
Want to pre-order some? Click here; you can pick between in-boot pickup or shipping as of right now.