Dark Horse Comics, XXX Distillery and Prestige Imports bring you Hellboy Hell Water.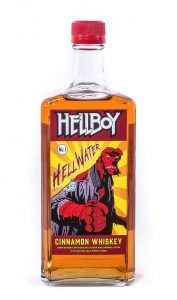 Hell Water
Craft distilled, small batch, and naturally flavored cinnamon whiskey retailing for $19.99 for a 750ml bottle. The 66.6 proof Hellboy Hell Water Cinnamon Whiskey is available nationally and can be ordered at www.hellboyhellwater.com.
"It's appropriate that (Hellboy) Hell Water Cinnamon Whiskey was made in the Smokey Mountains," said Dark Horse Comics Publisher Mike Richardson. "At 66.6 proof, (Hellboy) Hell Water packs a punch worthy of Mike Mignola's iconic creation."
Worthy Of The Name
Since Mike Mignola's Hellboy first hit the stands in 1994, it has become a cultural sensation, racking up a dozen Eisner Awards and inspiring numerous spinoffs, from a novel line, to video games, to animated films and live action feature films. Hellboy has also inspired a draft ale, a wine and now Hellboy Hell Water Cinnamon Whiskey.