Halo: Tales from the Slipspace is Dark Horse's new upcoming anthology comic based on the blockbuster sci-fi shooter series.
The comic feature 7 stories making it an essential reading for all Halo Fans. So lets have a brief overview about the each story.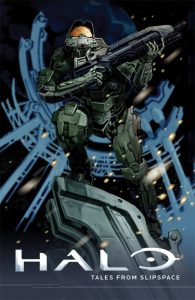 The first story is titled..
Something has happened:   
If you are a diehard fan of Halo series then first thing that clicks in your mind after reading this title is Halo Wars. Yup, the title does refer back to Halo wars legendary mode ending. Where the crew enters cryonic sleep for long-term storage as Cutter takes a last look at Forge's empty cryonic tube. After watching through all the credits rewards you with no video, but a single line from Serina.
"Captain, wake up. Something has happened."
The story features UNSC Spirit of Fire in January 2537. But how it refers back to the Halo Wars ending, is best left to discover on your own.
Fireteam majestic Poker Night:
A cut of life story revolved around Fireteam Majestic playing a Poker game, with the Demacro's plasma sword as a bet. Sadly the overall story appeals just ok because of its short length.
On The Brink:
This story follows Blue Team missions on 2558, months before the events on Halo 5: Guardians in the viewpoint of Kelly-087. Plot is that Convents manage to high-jack a mammoth and sent on impact course to a nuclear reactor and Blue Teams mission is to stop the mammoth along with the safety of the passengers.
The story has nice action and art is mind-blowing including a full page art.
Undefeated:
A mixed UNSC cargo ship carrying Troops and construction crew that gets struck by Multichannel cyber warfare attack. This causes the shutdown of the Ship's AI along with power supply. The passenger Marines, construction crew and ship's crew now have to work together to get the ships power back or get it on the course.
This story is one of the best in the anthology. It has perfectly depicted human psychology and emotions in life survival. After reading this you will understand that sometimes you have to make hard decisions when people's lives are on the line.
Hunting party:
Hunting Party follows a confrontation between Atriox and the Sangheili special operations team Silent Shadow. Resa as "Azayal" and spec-ops group moves on by slaughtering every beast they come across. The group's current mission takes them to "Elegy's Lament" and gets confronted by Atriox himself.
Story content is exactly what it is needed and gives a glimpse of Atriox personality who is a brilliant warrior and leader.
Knight takes Bishop:
The story follows SPARTAN-G059's mission to assassinate Avu Med 'Telcam on January 21, 2558.
The story is entirely told with visuals and action packed without any dialogues with exception of mission briefing. So for me it was not much of great experience.
Dominion Splinter:
It tells the story of Cortana's encounter with Warden Eternal, the guardian of Domain after the end of Halo 4. One thing about the story is that it starts abruptly without any explanation of how Cortana fragments find themselves in the Domain.   
Verdict:
Halo: Tales from the Slipspace contains good stories as well some bad stories. But overall it's some of the best work the Dark Horse has produced for Halo and the anthology is indeed an essential reading for all Halo fans! So check out Halo: Tales From The Slipspace at DarkHorse.com to get your own copy.
Halo: Tales From The Slipspace
Plot - 81%
Writing - 72%
Art - 85%
Long story short, if you are not a major fanatic of Halo Series or if you are a continuous novel reader Halo:TFS might not be able to amuse you much. But if you are a lifelong fan of the series then this is must have book to know about new revelations, even short as they seem to be along with gorgeous art Gallery.