Well, it's kind of an odd week for DST. And it's all because Friendship is Magic.
It's all about friendship
Diamond Select has got an awesome Aliens Minimate set in stores this week. It's the long-awaited APC, which should make that Aliens Minimate setup you've got going all that much cooler. And that's not all, since they've also got a neat Hawkgirl bust in stores. It's modeled after the animated version of the character too, so points for that.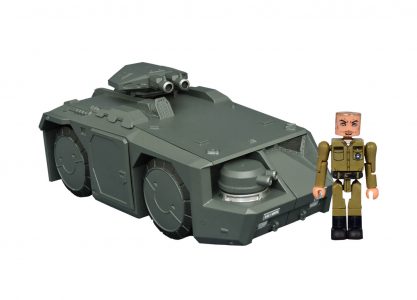 And then there are the… Ponies.
Yes friends, My Little Pony invades DST's listings for this week. I guess that makes it the friendliest week of the year. Three banks in total make their debut, one of whom is Doctor Whooves. Yep, you read right.
Scroll down for the listings
Aliens Deluxe Minimates APC Mini-Vehicle
A Diamond Select Toys release! Get your Colonial Marines ready to roll out with this all-new Minimates-scale mini-vehicle of the Armored Personnel Carrier from Aliens! Based on the classic 1986 movie, this approximately 7" APC vehicle seats five Marines, and includes an exclusive Minimates mini-figure of Lt. Gorman, with an alternate bandaged head. The APC has a roof that opens up so you can control the bug hunt from the command center, plus a real sliding door, rolling wheels, moving cannon and a rack for assault rifles in the back! Packaged on a full-color blister card. (Item #MAY162381, SRP: $29.99)
http://www.diamondselecttoys.com/aliens-minimates-apc-mini-vehicle

Justice League Animated Hawkgirl Resin Bust
A Diamond Select Toys release! It's the dawn of the Justice League! DST's line of resin busts based on the DC Animated Universe has been expanding rapidly, and now Hawkgirl is the first bust to be based on the classic Justice League cartoon! Swinging her mace, Shayera flies into action as an approximately 6" resin bust, set atop a pedestal inspired by the Justice League's Watchtower satellite. Hawkgirl is in scale to other busts from Batman: The Animated Series and Superman: The Animated Series, and is limited to only 3,000 pieces! Sculpted by Varner Studios, she comes packaged with a certificate of authenticity in a full-color box. (Item #MAY162404, SRP: $59.99)
http://www.diamondselecttoys.com/justice-league-animated-hawkgirl-resin-bust

My Little Pony Vinyl Coin Banks
A Diamond Select Toys release! Three new ponies are joining the My Little Pony vinyl bank series by DST! Based on their appearances in My Little Pony: Friendship is Magic, these sculptures of Pinkie Pie, Dr. Whooves and Rainbow Dash each measure approximately 7 inches tall, and are sure to delight any fan of the popular animated series. But while they look like high-end statues, each 7" vinyl bank has a coin slot in the base for storing your spare change, and an access door for getting it out again! Each comes packaged in a clear polybag.