Nintendo's first app has been out for 7 days, and is doing well.  Not only that, but it's a lot of goofy fun.  Our young, virgin thoughts.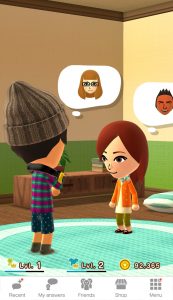 Nintendo has now been on the mobile market for a week, and Miitomo's launch has shown they have as much power on Google Play (1,000,000-5,000,000 downloads) and the App Store as they've had in their traditional markets. Within the first 24 hours of a global release, the app hit 3,000,000 downloads, and players aren't just dropping the app, either: users in the U.S are spending an average of just over 36 minutes per day with it, and in Japan users are still spending an average of over 22 minutes per day.
It's little wonder. After a week with the title, it's apparent that Miitomo has the makings of a very enjoyable social experience. The main drive of answering questions ranging from personal to wild has yet to get old (good thing- we've been at it seven days), and hearing your friends' own answers (which similarly range from brutally honest to delightfully sarcastic) is a fun way to interact with them (and dare I say it: get to know them). The comment sections of these answers are rife with short conversations and the occasional image response (if you thought you could escape memes, you were wrong).
It should be said that Miitomo is not the ideal place for an IM chat- new comments don't flaunt for attention, and they can be deep in the "Recent" list, which includes comments to answers you might not care about. But that's hardly the purpose of the app: it's there for easy laughs, and the occasional (see: rare) moment of refreshing honesty.
Oh, and the Miifotos? Hilarious. If you've ever wanted to Photoshop your friend's face onto a Machamp's body, but couldn't be bothered to learn the more advanced techniques required to produce a clean image, then you'll be happy to know Miifoto makes it as easy as possible. You can use your Mii's whole body to insert your Mii into the latest blockbuster (so long as you have a still downloaded to your device), or just his face to get that killer body you've always dreamed of. Then you can add in some of your friends, throw on some text and stamps, and suddenly your rock and roll dreams have come true.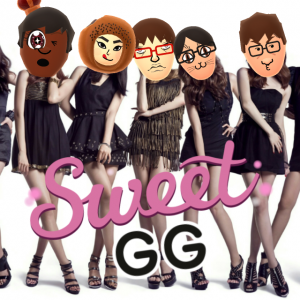 The goofy images (let's be honest: they can't be anything but) have already found their way to twitter and Facebook feeds across the internet, thanks to the ease of sharing and linking those accounts with Miitomo, which means you've been going out of your way to avoid them if you've missed them entirely. Or your friends haven't hopped on the train.
And that's where it'll either crash or pull loaded into the station: the fun is entirely dependent on how many of your friends join in (and how active they become). I've only got a handful, and after a few minutes every day (about as much as I'd want to spend on an app, anyway), I've usually cleared through the whole of their new answers and their comments and activities- if there's anything new to see at all. Even without them, there's still enough to do for myself to fill in that time: there's always new questions for me, new daily items in the shop, and Miifoto fun to be had.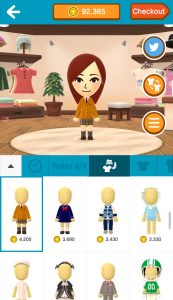 Speaking of the shop, Miitomo's is filled with apparel for your Miis, which help you to creep out your friends or better fit into your latest image's theme. The pieces are varied and abundant, (and often familiar to those who played Tomadachi Life), and range from the mundane (jeans, scarfs, headphones, varsity jackets) to the entertaining (T-Rex heads, baby bonnets, fishnet tights). The pieces can be mixed and matched until you've got your perfect look, but you'd be hard-pressed to leave it that way for long: changing your outfit daily earns you coins with which to buy more pieces for your ensemble, and changing also increases your style level.
What the purpose of it is has yet to be shown, but if nothing else, your friends should be glad to know you're a Celebrity Stylist.
As for micro-transactions, the proposed bane of console gamers' financial existence, I haven't seen them. I mean, I know they're there (to help you speed up the clothes acquisition process), but the game is so promptly paced that I've found them entirely ignorable. Which leads the question: for every million downloads, how much money is Nintendo going to make?
No doubt time will tell. Until then, I've got to think up my next wittiest answer to the next question: "If you could return to your past, what age would you go back to being?"
Sources: IGN, GoNintendo