Star Trek is celebrating it's 50th anniversary this year, and you better believe that there'll be a convention to mark the event.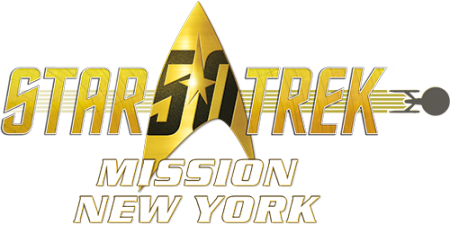 It's been years, and I mean years, since there's been any kind of Star Trek convention to speak of in New York. Actually, it's been years since there's even been a general sci-fi convention worth talking about in the city. And believe me, I know.
I used to hit every single one when I was a kid/teenager. The Penn Plaza Pavillon, New Yorker Hotel, and yes the Javits Center were all hotbeds of activity in the golden age of the smaller cons, the 80s/90s. There were comic shows, toy shows, and science fiction shows galore back then, but they pretty much all dried up in the modern age thanks to some of the hobbies they featured semi-collapsing, and the rise of the mega-cons as the sole shows on the calendar.
Trek cons actually started at the Statler Hotel (which has since become the Hotel Pennsylvania) way back in 1972, according to the convention maestros at ReedPOP. Reed POP is, of course, one of the main forces in that arena. With its NYCC bringing in massive numbers of visitors every  October, the group has become a force in a relatively short period of time, and now they're helping to bring about a return to the age of the Star Trek convention with this Fall's Star Trek: Mission New York.
"Star Trek fans set the gold standard of what these type of experiential events are all about, truly establishing this industry that we've been so proud to be a part of," said Lance Fensterman, Global Senior Vice President of ReedPOP. "Star Trek: Mission New York will be a completely unique fan event unlike anything seen before, giving them the chance to go beyond panels and autograph signings, and immerse themselves in the Star Trek universe."

Liz Kalodner, Executive Vice President and General Manager of CBS Consumer Products, added, "There has never been a better time to be a Star Trek fan than right now with the 50thanniversary celebration on tap. Star Trek: Mission New York will celebrate everything going on in the Star Trek universe, and we couldn't be more thrilled to bring it back to the birthplace of the original Star Trek convention and do so with a partner like ReedPOP."
And I'm sure the result of that partnership will be one massive celebration of all things Trek, including the movies (with Star Trek Beyond hitting this Summer) and maybe (hopefully) some inkling as to what 2017's return to TV will entail. Stay tuned folks, there's plenty more coming up for this one before Star Trek: Mission New York lands in the heart of NYC, at the Javits Center, this September 2nd through the 4th.
For more info on the show, click here.