One of my proudest moments as a gamer who grew up with the Nintendo Entertainment System, is buying the original Mega Man because of the box art. Okay, I was interested in it mostly because of the cool screenshots on the back of it, and I'm pretty sure there it was featured in Nintendo Power, but let's just go with the cover art thing, okay?
Because Mega Man has been around for a long time, it's not surprising to see the influence in the industry — I see it everywhere, especially in those really punishing platforming style games like Spelunky and Super Meat Boy.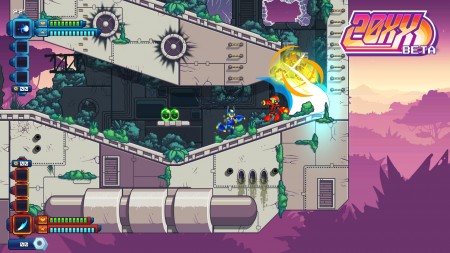 They say that imitation is the sincerest form of flattery, and with the Steam early access game 20XX, the folks behind it are working on a very enjoyable game, one that pays homage to Capcom's Blue Bomber. From the level and character designs to the fast-paced music, it's obvious that the folks at developer/publisher Batterystaple Games hold Mega Man very near and dear to their hearts.
One of the biggest differences between 20XX and Mega Man, is that 20XX is co-op friendly, and you and another buddy can play through the punishing levels at the same time. I was not able to test this feature out with another player, but from the video clips it looks like a blast, and I can't imagine that teaming up with a friend would make for a less enjoyable experience.
Because the game is an Early Access title, players who do buy and play this one should be aware that there may be some parts where the game is unpolished, incomplete, or could randomly crash. I experienced a Blue Screen error when trying it out on a laptop running Windows 10. But because Blue Screen errors are typically caused by hardware/drivers issues, I don't blame the game for that particular crash, so keep that in mind.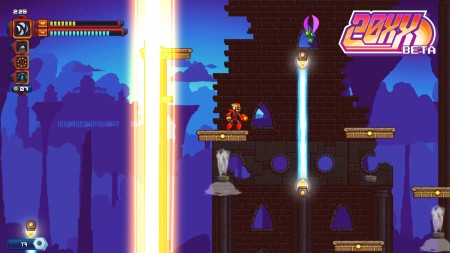 It's also highly recommended to play the game using an Xbox controller, but I didn't have a wired controller to use, so I resorted to the keyboard. It was not the most ideal way to play it, but I was able to do fairly well, and get a pretty good understanding of the game. Much like Mega Man, perfectly timed jumps are crucial to succeeding, and you'll want to make sure you have a better control scheme available (unless you're a master of the keyboard) if you're going to pick up 20XX.
Overall, I was very impressed with 20XX! For those who purchase 20XX right now, as an Early Access title, it'll only cost you $11.99. Once the game has been fully released, the price is said to be raised to $15 ($14.99?).