It's kind of a bittersweet day for Hellboy fans as the Winter Special has been announced, a new double-shot of one-shots with Red will debut in October, and the end of an era will take place in 2016.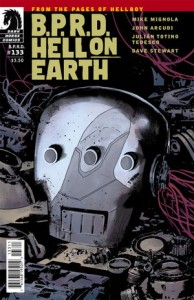 First the good news, there's a pair of new Hellboy books to talk about with the announcements of the Winter Special and Hellboy and the BPRD: 1953. Let's start things off with the 1953 books, since those are kind of the biggest of the new announcements, and will continue the Mignola-verse's trip through the past, teaming him with the artist from Frankenstein Underground.
Legendary Hellboy creator Mike Mignola and acclaimed Frankenstein Underground artist Ben Stenbeck will reunite to launch the new series Hellboy and the BPRD: 1953. Starting in October, timed to Halloween, they will release two one shots that follow Hellboy to England for his first-ever ghost hunt. Hellboy is joined by Professor Bruttenholm in the field to fight the phantom hand of a murderer and a demonic water spirit in stories reminiscent of the early Mignola masterpiece The Corpse.
If you haven't been following Frankenstein Underground, you need to be. It's not only a part of the Hellboy Universe, but it's also a phenomenal story in its own right and a super cool evolution of the Frankenstein characters. It's hard to give a new take to a classic like that, but this book plus it off. The art is also stellar and that's why I bring it up to a great degree. Mignola teaming with Stenbeck is an instant buy for anyone who loves the characters here.
I also have to mention that timing these bad boys for an October launch is just too cool. New Mignola stuff to pour over on Halloween is making me smile big time.
Also a one-shot, but coming a wee bit later than the previously mentioned comics (and in a much colder season), is the Winter Special. The book will include a few stories from some major talent, one of whom will be debuting as the co-writer for the main Hellboy & the B.P.R.D. book.
Next January, the upcoming Hellboy Winter Special one-shot will include contributions of major, still unannounced comic book artists and will include the first ever Mignolaverse story co-written by Chris Roberson, the co-creator of iZOMBIE. Roberson and Mignola will co-write a 12 page story illustrated by Michael Walsh (Secret Avengers). The following month, Roberson will debut as the ongoing co-writer for Hellboy & The BPRD, with Mignola, working with artist Eisner & Harvey Award winning art team Paolo Rivera (Daredevil) and Joe Rivera.
Tons to like there as well from a fan's perspective. And that brings us to one piece of news that's both a little bit of a downer and a pretty awesome event: Hell on Earth is coming to a close. One of my favorite books out there on the stands today, B.P.R.D.: Hell on Earth managed to somehow take the reigns from Mignola and create an expanded universe of creatures and heroes that actually built the fiction and captured a whole new generation of readers (including me).
All good things must come to an end though, as the Hellboy property moves on in its ever-evolving universe, and that means that Hell on Earth is finally scheduled to come to an end in 2016. The lengthy arc will wrap up in issue #147 of the book of the same name and see John Arcudi, who's been with the series since issue #1, make his exit from the franchise.
I know this is sort of a bummer, but it's actually pretty awesome too, as this arc has been cooking for 147 issues and I'm dying to see how it all comes to an end. As for the team working on the series, as well as creator Mike Mignola and Arcudi himself, well it's a slightly more tearful happening.
If you're a big fan, have a read through the statements below; they wrap things up nicely.
"I'm excited," said Mike Mignola. "I'm always excited to work with Ben Stenbeck and it's great to finally see his take on Hellboy. And I'm excited about working with Chris Roberson–He's bringing a wonderful new energy and a lot of new ideas to Hellboy AND THE BPRD (and a couple other books we aren't ready to talk about yet). And I'm excited about the amazing way John Arcudi is wrapping up BPRD HELL ON EARTH. Of course we are all sorry to see him leave the title but he is doing such an amazing job on his way out. I will be forever in his debt–He is really responsible for making the BPRD what it is and while I'm excited about where that book is going (can't say anything about that yet) everything we do in the future will be built on top of the rock solid foundation John created."

"I've been an enormous fan of Hellboy since the very beginning and I've got the action figure and lunch box to prove it," said Chris Roberson. "BPRD has been and remains one of my all-time favorite series, so getting the opportunity to work with Mike Mignola in exploring Hellboy's early days as a BPRD agent is an incredible thrill."

"I won't lie; it's kinda sad," said John Arcudi. "Mike and Scott handed me this universe so long ago, and to say it's been a creatively rewarding experience doesn't even start to cover it.  From day one on up, I always worked with some of the very best artists in comics, and we're talking about eleven straight years here!  Of course I'm happy about that, and about having seen the Hell on Earth arc through from beginning to end — but I know there's still a lot of story to tell, and I don't want to go stale on this team after the huge solid they did for me, trusting me to play in this fantastic universe.  That wouldn't be right.  I want to go out while the stories still feel fresh to me, and to Mike, and to Scott."

I was shocked when John said he wanted to move on," said Dark Horse Editor-in-Chief Scott Allie. "He's been essential to growing Mike's world, the first guy we trusted to bring his own personality to the big stories, making the characters his own in lots of ways. For all the planning that goes into the Mignola books, there are actually things in John's climactic run of BPRD that we never thought we'd do. He's leaving BPRD with a bang. After Hell on Earth, we're tackling Mike's biggest mythological material, bringing in other voices like Chris Roberson to tell this next wave of stories, and everyone kicking in will be reading and rereading John's work, me included, to make sure we get it right."