The wedding of X-O Manowar in here in an issue that's packed with extra content, and plenty of heart.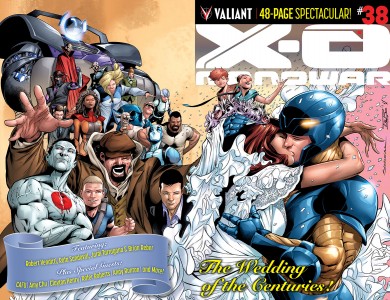 For being one of the main heroes of the Valiant Universe, we don't really know a ton about Aric of Dacia. The man who wields the sentient armor called Shanhara as X-O Manowar. There've been plenty of hints here and there as to what Aric's life was life pre-Vine abduction, but finally, here in the Wedding of X-O Manowar, we get pretty much the straight story.
While I don't like to spoil too much one way or the other, there will be a few little spoilers here in this review, so if you don't want anything ruined for you as to this issue, skip on down to the Final Thought section to read what I thought of it, spoiler-free and all summed up.
What you shouldn't expect from X-O Manowar issue #38 is a ton of action, because there isn't really any other than some seen in flashbacks. This issue isn't about a big battle, or superhero action, but instead is about the man that Aric is and was, and who he's becoming now that he's king of a group of modern day Visigoths, with a kingdom set up in the heartland of the United States.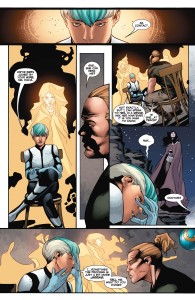 And in that, it succeeds plenty. Writer Robert Venditti crafts a tale that brings the character full circle, as he finally moves on with his life and not only marries his love Saana, making her his queen, but also makes peace with his past and legacy. Helps thinking about a family line now, and an heir, as well as being happy, which isn't something that he'd even considered in the not too distant past.
There's an actually progression here, which isn't something that you see all that often in comics really, and it's pretty darn cool. You get a real sense that the future of X-O Manowar and his adventures to come aren't going to be completely the same as the ones that have taken place up to now. There are promises made here in this book that will see to that, at least for a while they will. As a fan, I'm more than a little interested to see what comes of it all.
You can also expect to see a flow of guest stars in this issue, the likes of which you probably won't see in a Valiant book outside of something like Unity. There are some that you wouldn't even see in that comic really also, like Dr. Mirage, who provides an integral element to this specific story- and one that's loaded with emotional, including one especially touching panel.
Unlike the cameo's though, the art is what you would definitely expect to see from Rafa Sandoval is terrific. Realistic, but with a bright flair to it, the illustration is right in line with what I love to see out of a superhero comic, even though there aren't too many super heroics happening here… unless you count marriage.
The main wedding storyline isn't the only one here though, as the issue also offers a quartet of backup shorts that are all pretty fun as well. They run the gamut from showing Aric in his life in the middle ages, up to a cartoon about an owl and worm that don the armor. They're all pretty fun. Some shed light on motivations of characters like Saana, while others are just one-off tales, and all of them are by different artists with starkly different styles. It's almost like a mini-anthology and it's a really neat addition.
Final Thoughts
If you're a new X-O Manowar fan this is kind of an essential issue. Sure there's no 'action' to speak of, but X-O #38 spells out the relationship that Aric has with his friends and foes, and it also gets readers up to speed on what's been happening in his life, as well as the timeline of the Valiant U in general.
You also get a really good, and surprisingly emotional story here, which is both well-written and drawn. So even if you've been with Aric since the first issue hit the stands, you'll more than likely enjoy what you find in the 'Wedding' issue.
Oh, and don't miss issue #39 next month either. That one kicks off the Exodus arc, which sees Aric bringing the Vine survivors to Earth. That promises to be… interesting.