You just can't beat the Dark Knight. Which is pretty evident with the fact that Batman: Arkham Knight is now officially the biggest release of 2015.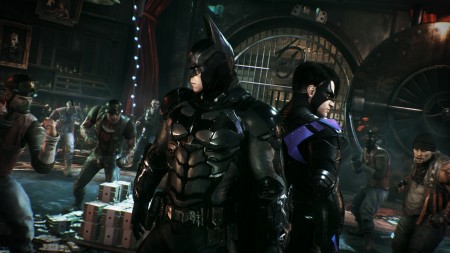 When you consider, this year has already had some marquee games see release. Sure, it's been quieter than years past overall (though this Fall will certainly change all that), but 2015 has seen massive games like The Witcher 3: Wild Hunt and the console versions of The Elder Scrolls see launch.
They both had terrific launches, as did LEGO Jurassic World, but none of those titles can hold down the Batman. The last game in the trilogy from Rocksteady debuted to huge numbers, besting all of the above and swooping to the top of the sales charts.
Expectedly, the game also set a series record, performing better at retail than either Arkham Asylum or Arkham City, which was the last main release in the franchise if you don't count the offshoots (Arkham Origins on console and handheld). That's no mean feat since both previous games were excellent in their own rights, but since this is the capper it would have been kind of strange if it didn't get more fans onboard than ever before.
As industry site MCV points out too, this one represents a massive victory for Warner Bros. overall, and not just with the game in question. 2015 saw no less than four Warner Bros Interactive Entertainment titles hit that number one mark in the UK, with Mortal Kombat X and Dying Light joining the aforementioned LEGO Jurassic Park and Arkham Knight as chart-toppers.
All that and the year's only half over. Don't forget that the publisher also has stuff like Mad Max, LEGO Dimensions, and LEGO Marvel's Avengers on the way, and I wouldn't bet against Dimensions at least joining that already existing fab four.
Source: MCV