Darksiders, Saints Row and more are now ready for purchase and download on GOG.com.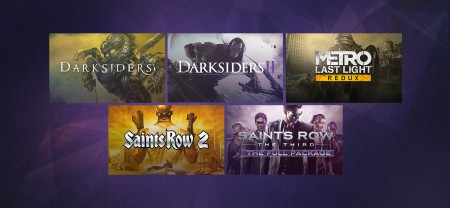 "It's not every day that we see major games like these, unchained from any forms of DRM," says Oleg Klapovsky, VP of business development at GOG.com. "With today's big-name DRM-free releases, and the impending The Witcher 3: Wild Hunt premiere, we anticipate even more major titles to follow suit."
Ever adding to their arsenal of games both past and present, internet retailer GOG.com has inked a deal with Deep Silver to get a bunch of the publisher's games up and running on the download service. PC gamers can now add Metro: Last Light Redux, Saints Row 2 and 3, ,and Darksiders parts 1 and 2 to their carts on GOG, and add them to their libraries.
As usual with these kinds of major deals too, GOG is running a special discount for the first week that the games will be available. You can grab all of them with individual savings running from 50%, all the way up to a massive 75% off the ticket price till the 18th of this month.
Also worth noting is that GOG just passed its 1000th game listing, so the catalog for the DRM-free retailer is absolutely busting at the moment. And they just launched GOG Galaxy, their online gaming an social net, and added the first Star Trek classics to their stable, so pretty much everything's coming up roses for GOG right now.