If you've seen Mezco Toyz lineup of Mortal Kombat X figures, then you know they're all kinds of cool. And now you can add series 2 to your collection with a nice discount.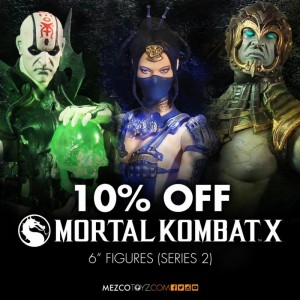 Unless you've been living under a rock (a spiky, blood-covered rock), you know that Mortal Kombat X releases today. The newest fighting game from NetherRealm and Warner Bros is a further reinvention for the franchise and is darker and grittier than it's been pretty much ever before… which is really saying something when you think about it.
Reflecting the new character designs and the new fighters on the roster is this line of action figures from Mezco. We profiled the first series back at Toy Fair time in February and it's a really nice-looking series of toys with some terrific sculpts and detailing. Each figure has 17 points of articulation, with plenty of ball-joints throughout so you can actually recreate those brutal moves from the game, unlike a lot of figures crafted in the likeness of fighting game characters.
And now, as you might have gleaned from the headline, you can grab some of these awesome toys for a decent discount. Just announced, Quan Chi, Kotal Kahn, and Kitana are all available for pre-order from Mezco's online store, and they can all be had for 10% off the usual price. Since these are brand new, I wouldn't expect there to be a discount of any kind other than this one for a while. So if you want 'em, this would be the time to order up.
And that's something that you can do by clicking here.