Forget console wars, a bigger indicator of console success is title sales, and currently PlayStation is edging Xbox out. Superdata, a market research company that aggregates data on games and playable media, just released a report that found players spent twice as much on PS3/PS4 games than Xbox 360/One during January. PlayStation game purchases actually made up 63% of the total market share.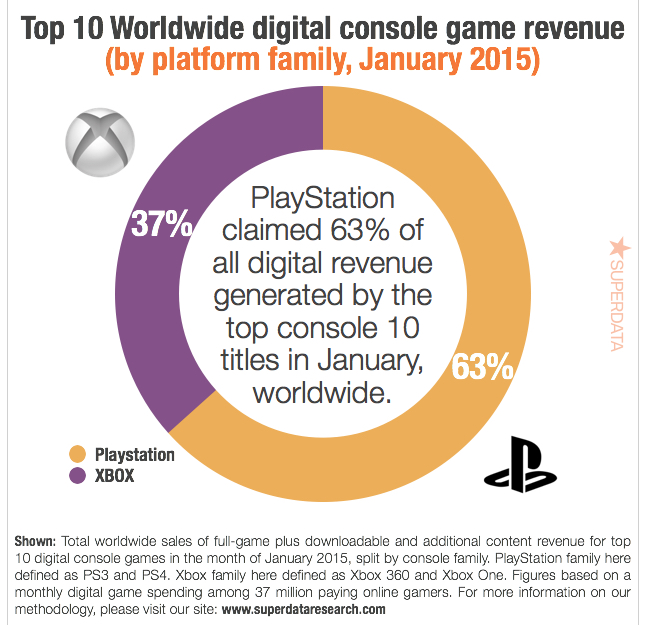 This data comes from a new digital service offered by Superdata in which data from 37 million gamers paying online was analyzed. Superdata also determined that the digital market is valued at $49 billion annually and has become the predominant method of paying for games. While this was an obvious trend, the $49 billion price tag placed on it certainly forces developers and publishers to take note. The landscape is changing and retail purchases are quickly fading into obscurity. GTA V is a great example. Re-released for the new gen consoles, it sold the most digital units, finishing with $31.8 million in digital sales for January alone.
PlayStation, especially PS4, currently dominates the digital market. Sony and PlayStation quickly saw the potential for the digital market and quickly moved to integrate it into the PSN. An easy example of this is the free monthly games for PlayStation Plus members, which are in digital format. By introducing and demystifying digital game downloads, PlayStation bridged the gap between the digital and physical title world. Xbox and Microsoft should quickly respond and future numbers will most likely balance; however, PlayStation will certainly enjoy its moment as the leader of the digital pack.
Follow me on Twitter and share your thoughts: @lmrome3
Source: Gamesindustry.biz